White Out night ROCKED the gym Thursday evening for the Lady Tigers as they faced the Knob Noster Panthers.  Junior Varsity battled back from a 1st set loss 14-25, to a  thriller of a second set, but ended with a loss 24-26.  Sophomores Abby Warner and Mallory Reed led the offense with 4 kills a piece and sophomore Jellisa Atwood added 3.   That thriller 2nd set of the JV matched fueled the fire for the Varsity match! Lady Tigers attacked from the service line with aggressive well-placed serves to take the win in 3 sets 25-19, 25-22, 25-21.  Senior Kayley Goodman's new jump serves and Senior Matti Mergen's line-drive floaters resulted in 6 aces each to keep the Lady Panthers on their heels.  Junior Nevaeh Washington added in 3 of her own aces.  Kayley and Nevaeh led the attack at the net each finishing with 7 kills followed by sophomore Sydney Gordon with 6 kills and senior Kelsey Buxton with 5 kills for the night. Matti Mergen set up the offense finishing with 12 assists and Sydney continued her contribution with 7 assists as well.  Kelsey combined forces with freshman Emery Cannon at the net with each of them finishing with 2 blocks.  Defense continued in the back court with a balanced effort!  Neveah with 13 digs, Kayley with 12 digs, Sydney with 10, :Matti with 6, Freshman Sanata Rivas with 6, and Emery finishing with 4. Tiger Defense was getting it done!!!   Exciting night of volleyball with a great crowd cheering them on!  Lady Tigers will take a rest over the Labor Day weekend and return to the court Tuesday taking on the Santa Fe Chiefs in Santa Fe.

Green Ridge Volleyball will play their home opener this evening against the Knob Noster Panthers. The Junior Varsity contest will begin at 5:30 p.m., followed by the Varsity match. It's "White Out" night, so please dress in white to cheer on the Lady Tigers! Good Luck Tigers!
Green Ridge Volleyball clawed their way to victory in both Junior Varsity and Varsity matches in Sweet Springs Tuesday evening. Junior Varsity started the night winning the 2-set matchup 25-19, 25-18 with an impressive serving game behind sophomore Miley Hayes' 6 aces.  Sophomore Mallory Reed and freshman Kayden Box served for 3 aces each and sophomore Jellisa Atwood added in 2 aces as well.  Sophomore Abby Warner led the offense with 4 kills while Kayden and Jellisa each swung for 2 kills in the win.   The Varsity powered through a tough and scrappy Greyhound defense to take the WIN against Sweet Springs in a 5-set thriller!  18-25, 15-25, 25-6, 25-15, 15-13.  Sophomore Miley Hayes served for 3 aces early in the match, but the Lady Tigers couldn't put the ball down on a relentless defensive effort from the Greyhounds.  Set 3 changed it all with some adjustments in serving strategy combined with a lineup adjustment to stabilize the Tigers defense.  Freshman Emery Canon got in a groove from the service line, serving for 6 aces, and fellow freshman Santana Rivas took the Libero spot to strengthen the passing game.  From there, Lady Tigers found their fight.  Senior outside hitter Kayley Goodman used a variety of placement shots to finish with a team high 13 kills for the night.  Middle hitters Neveah Washington, a junior,  and Kelsey Buxton, a senior, added to the offense with Neveah getting 10 kills and Kelsey 6 kills along with 3 blocks.  Senior setter Matti Mergen and sophomore setter Sydney Gordon each finished with 13 assists.  Lady Tigers were behind 3-10 in the 5th and final set and fought back with that Tiger Pride that we all know and love!  Congratulations Lady Tigers!!

GR parents and guardians, we still do not have all students' updated enrollment information. Enrollment can be completed via paper packet that was sent home at open house, or the online enrollment option. If you choose to do the online option, there are still a few papers you will have to fill out by hand. Look for the brightly colored papers. Please get all enrollment information completed as soon as possible. Students will not have access to chromebooks until all their enrollment papers are completed and turned in to the office. Thank you for your help in this matter.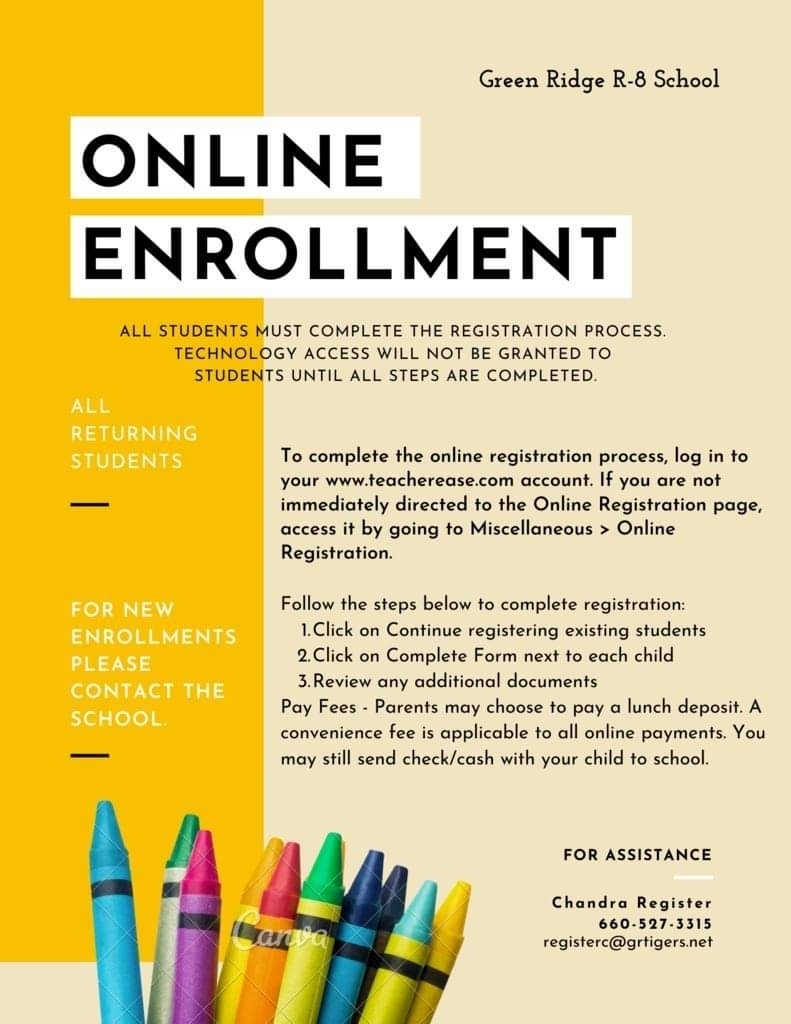 Some GR8 teachers and students during our first week of school.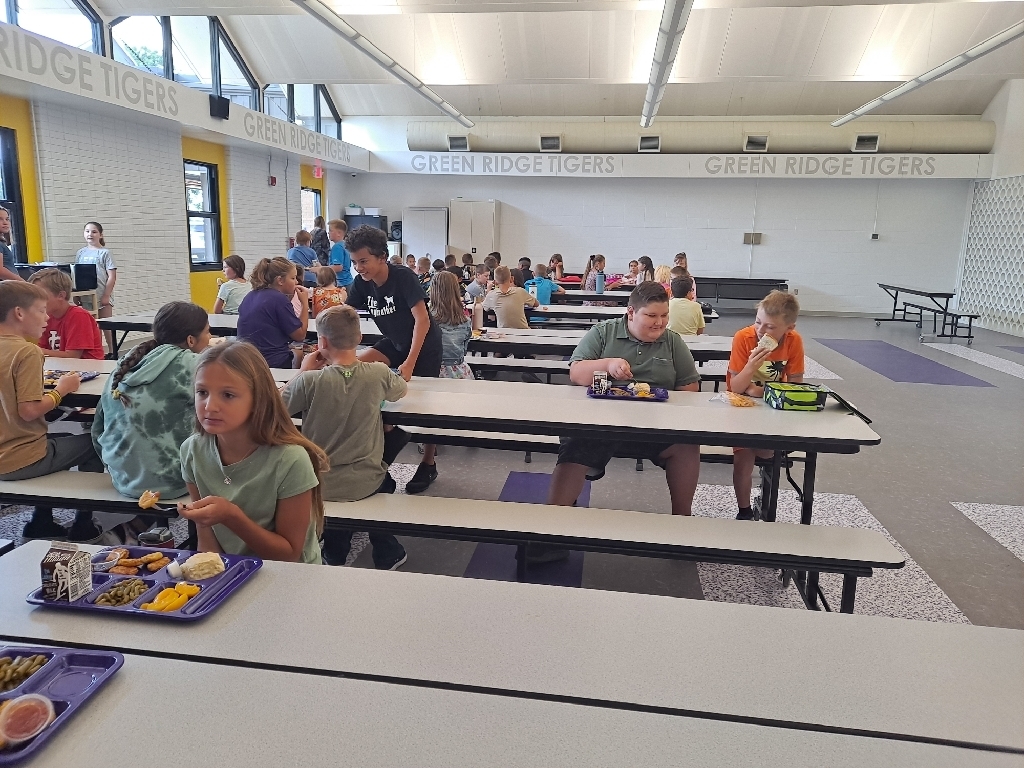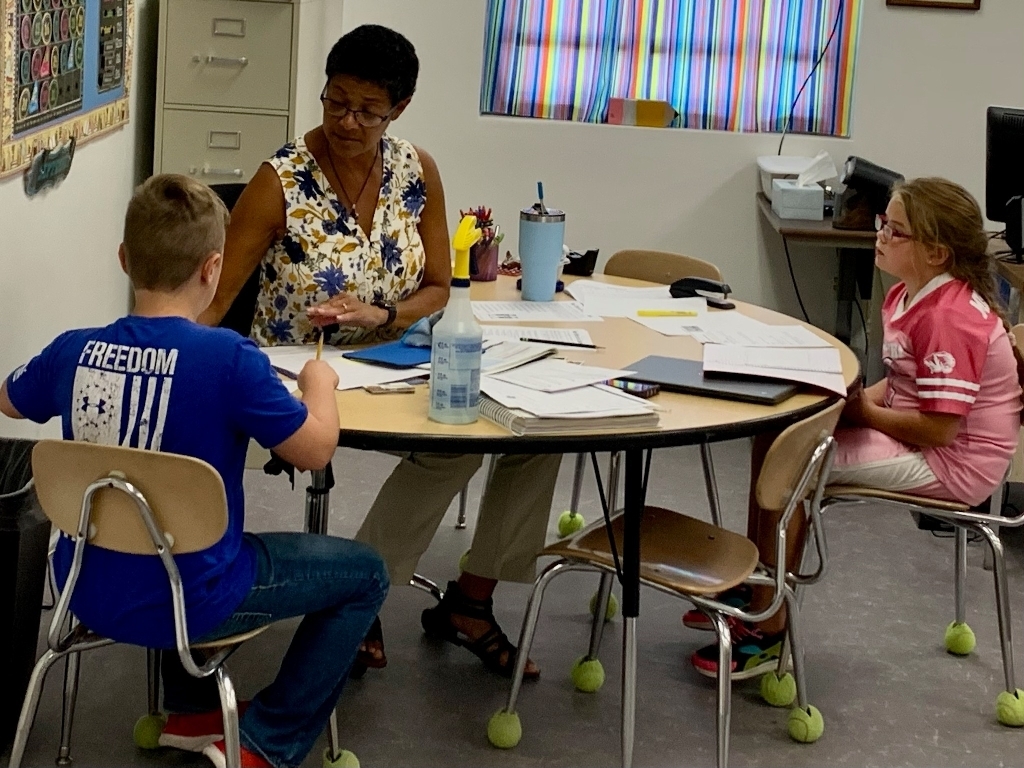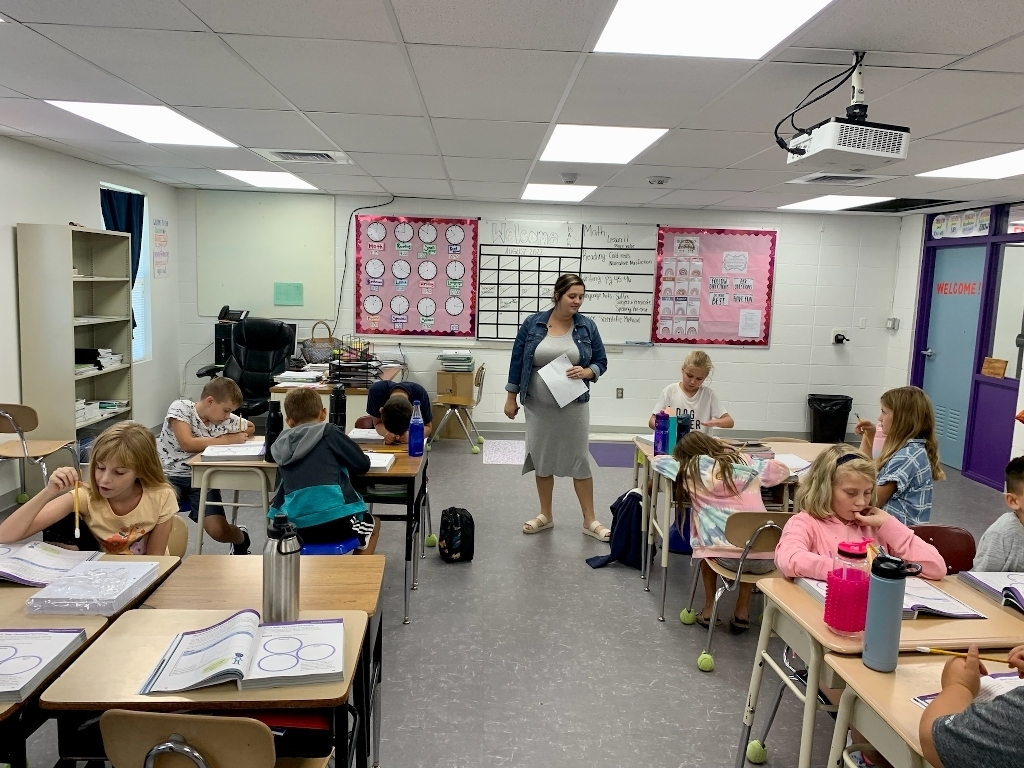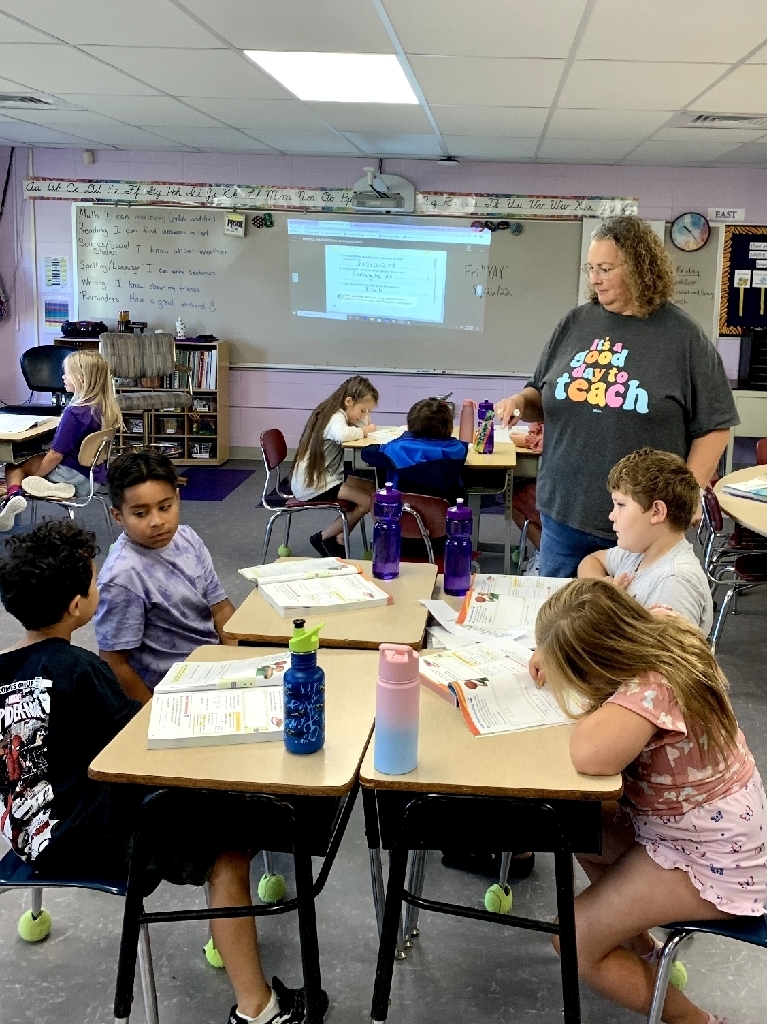 Our first week back, and we're back in the groove of learning!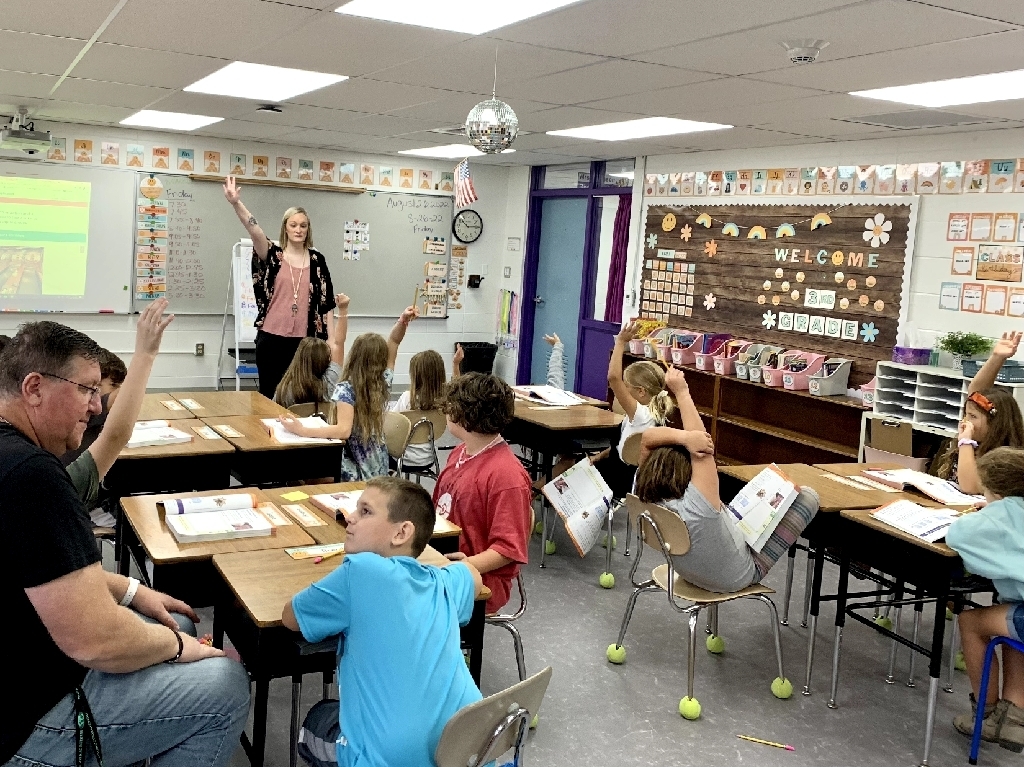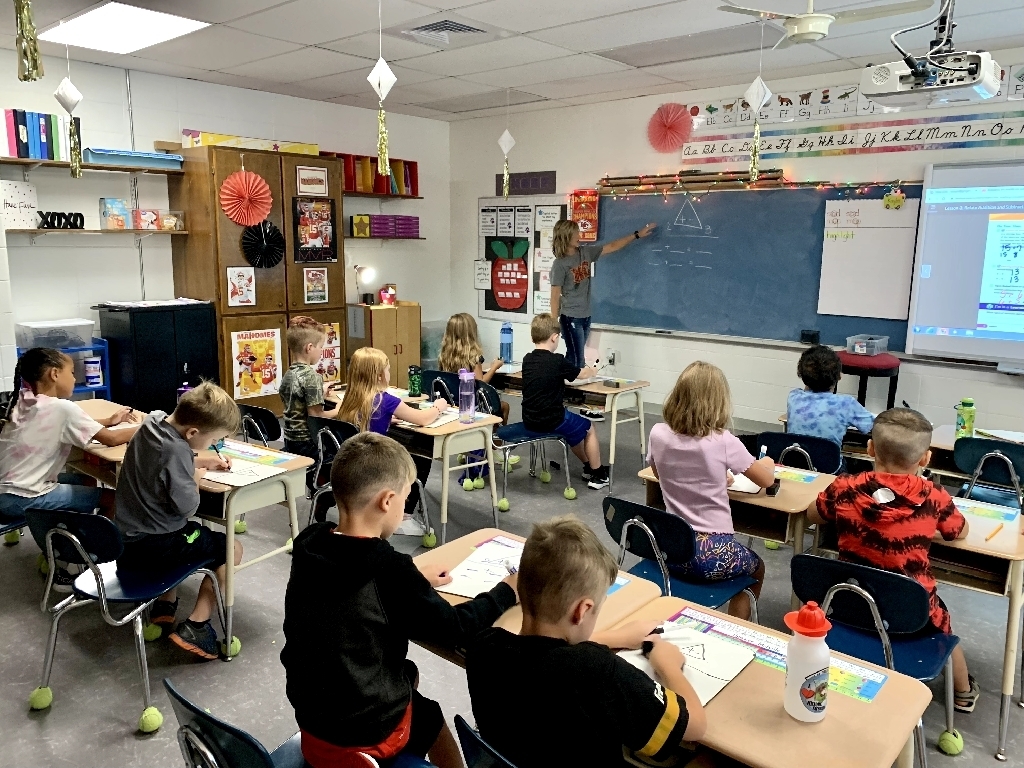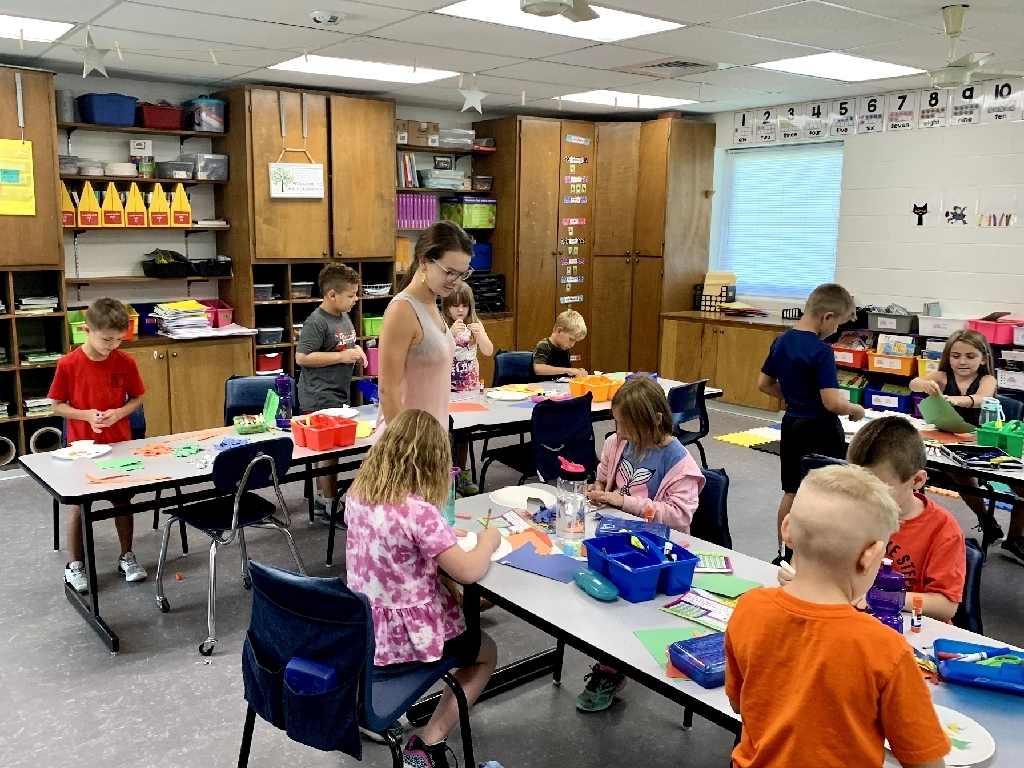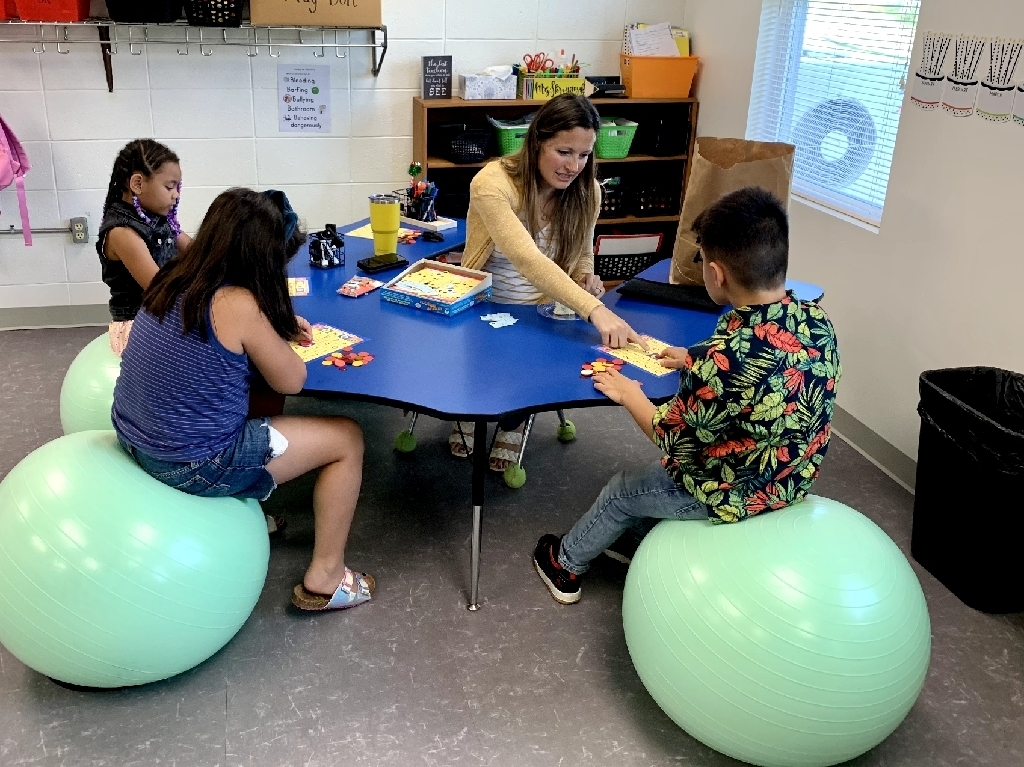 Activities update for 8/25: JH Soccer practice starts today at 4:00 p.m. (at the soccer field) "Meet the Tigers"/"Tigers are Back" will start at 7:00 p.m. in the Big Gym. All Fall Activity participants are encouraged to participate (HS/JH Volleyball, HS/JH Soccer, HS/JH Cross Country, HS Girls Golf, HS/JH Band). Come out to celebrate the start of Fall Activities and our participants. GO TIGERS!

Just a few pictures from our 1st days of school. Our students are excited to be back, and we are excited to have them here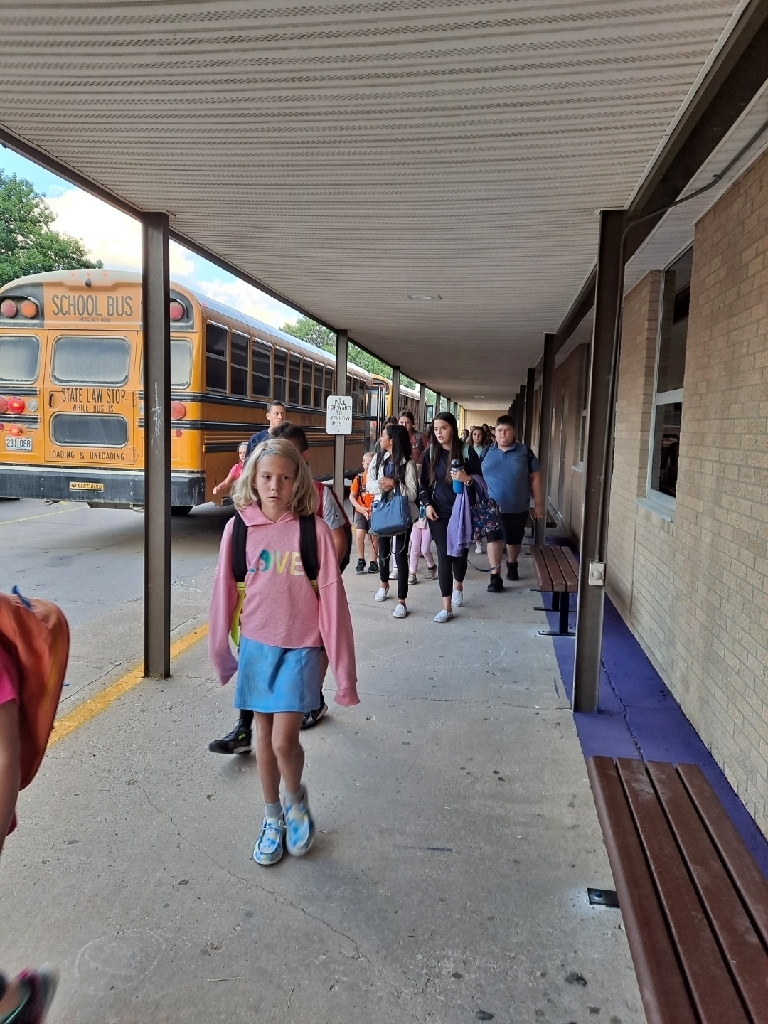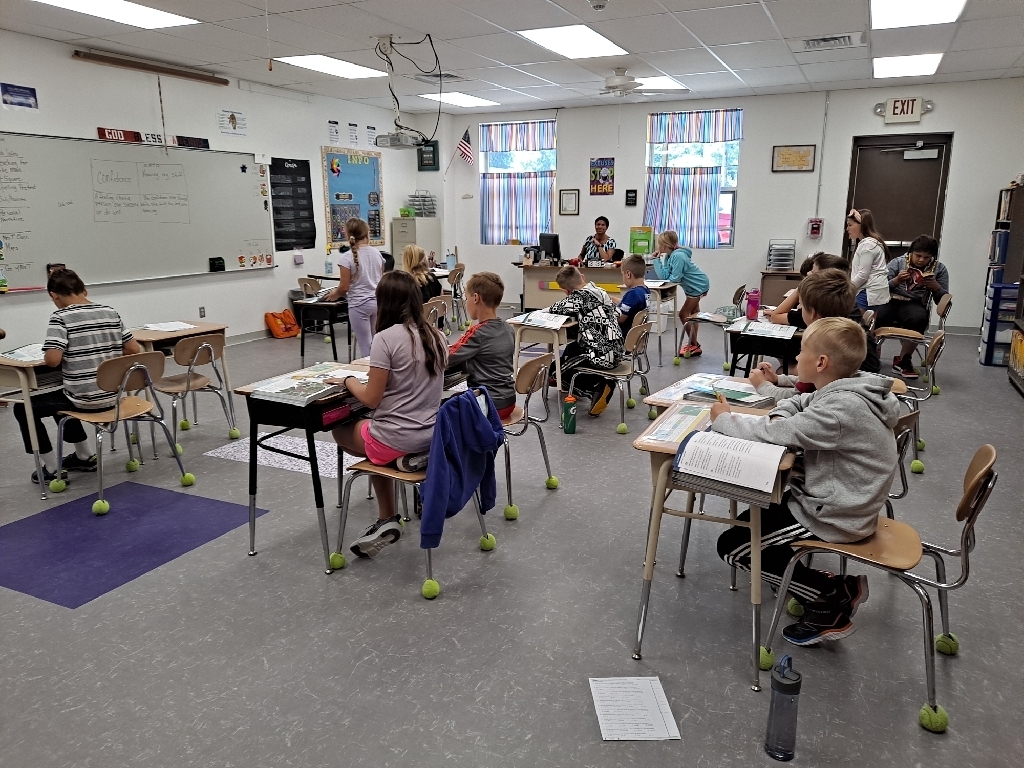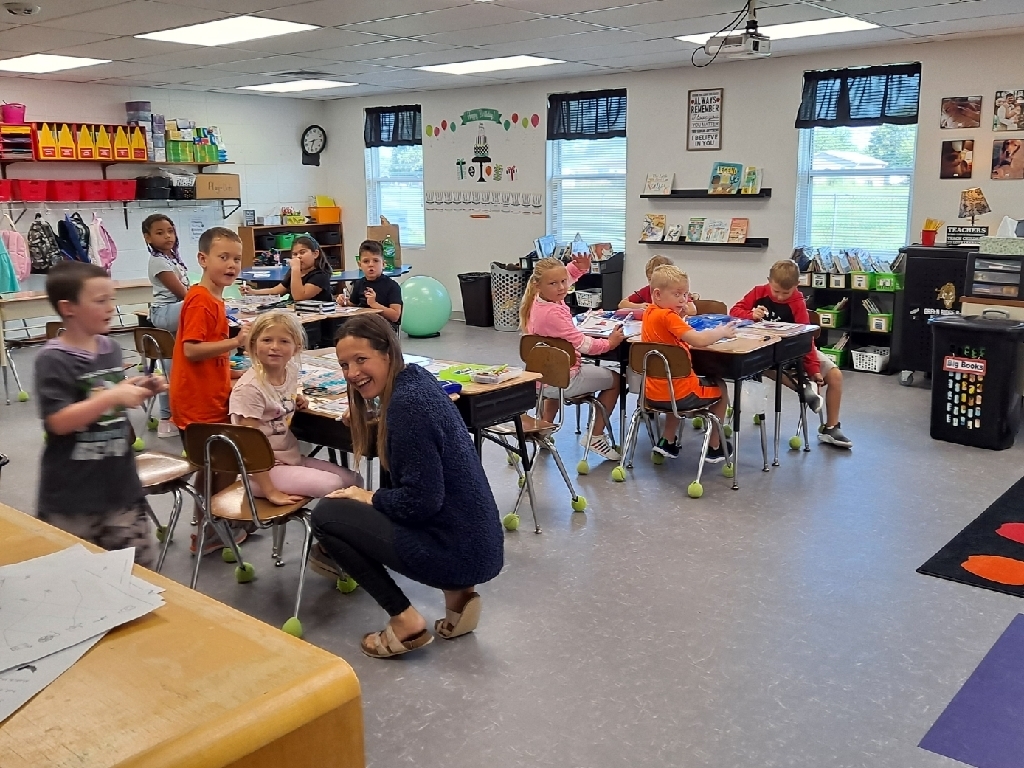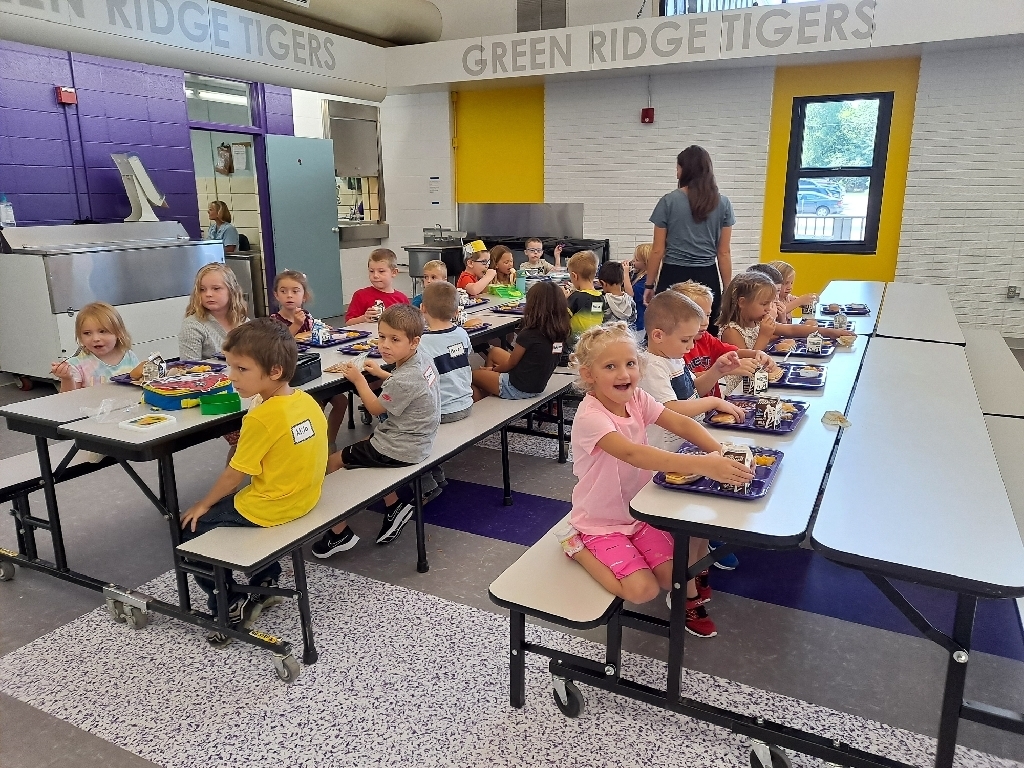 We are excited to finally announce we will have a Junior High Soccer Team! Practice will be start tomorrow, Thursday, 4:00 p.m. at the soccer field. Good Luck Tigers!

The District is experiencing internet and phone outages. We apologize for the inconvenience. We will update as we are able to get back online.

The District is experiencing internet and phone outages. We apologize for the inconvenience. We will update as we are able to get back online.

The District is experiencing internet and phone outages. We apologize for the inconvenience. We will update as we are able to get back online.

Junior High Athletics update: JH volleyball will start tomorrow at 4:00 p.m. in the Big Gym. JH Soccer will meet the first day of school (Tuesday) to gauge interest, and decide if we will field a team. JH Cross Country will practice with the HS team at 6:30 a.m. (Meet in front of the Big Gym Door).

THANKS so much to Green Ridge Baptist Church for providing hotdog dinners to our GR8 staff, students, and their families at Open House tonight. It is going to be a GR8 school year! Students, we look forward to seeing you on Tuesday!

Hey Tiger Families don't forget tomorrow, August 18th is open house from 5:00-7:30p.m. Students and families are welcome to meet their teachers, talk to our health aide and bring in medications, visit with bus drivers about routes, pay for lunches, sign up for Boys & Girls club, meet with GRRO, and join PTO. 7th grade students and parents should meet Mr. Edington for orientation in the big gym at 6pm. In addition, 2021-2022 yearbooks are in and available for pick up in the business room. You will even be able to grab a hotdog meal provided by the GR Baptist Church. We look forward to welcoming our Tigers back!

We hope to see you at Green Ridge Open House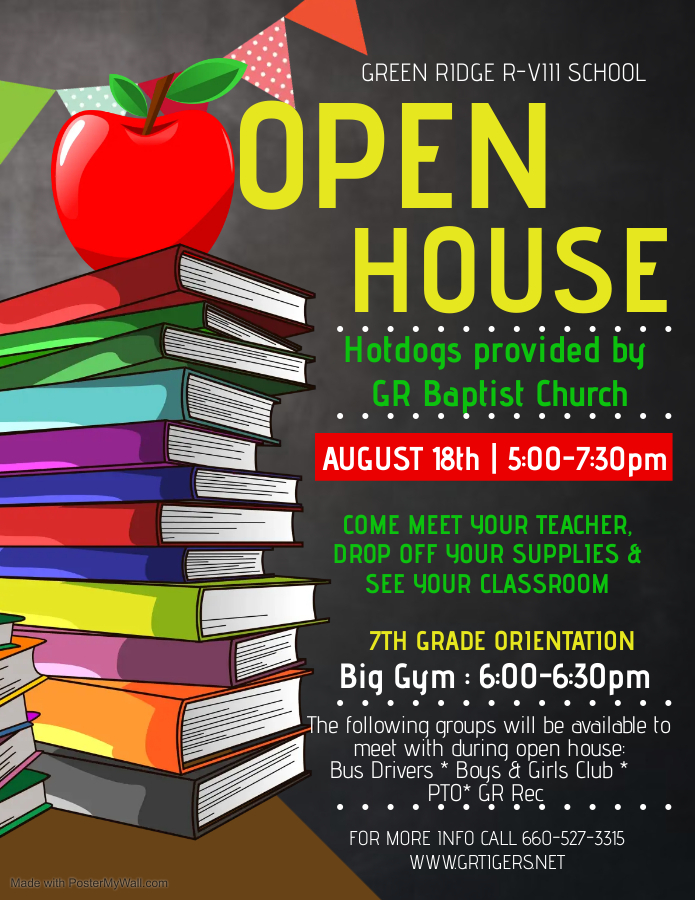 Online Enrollment Info for Returning GR8 Students!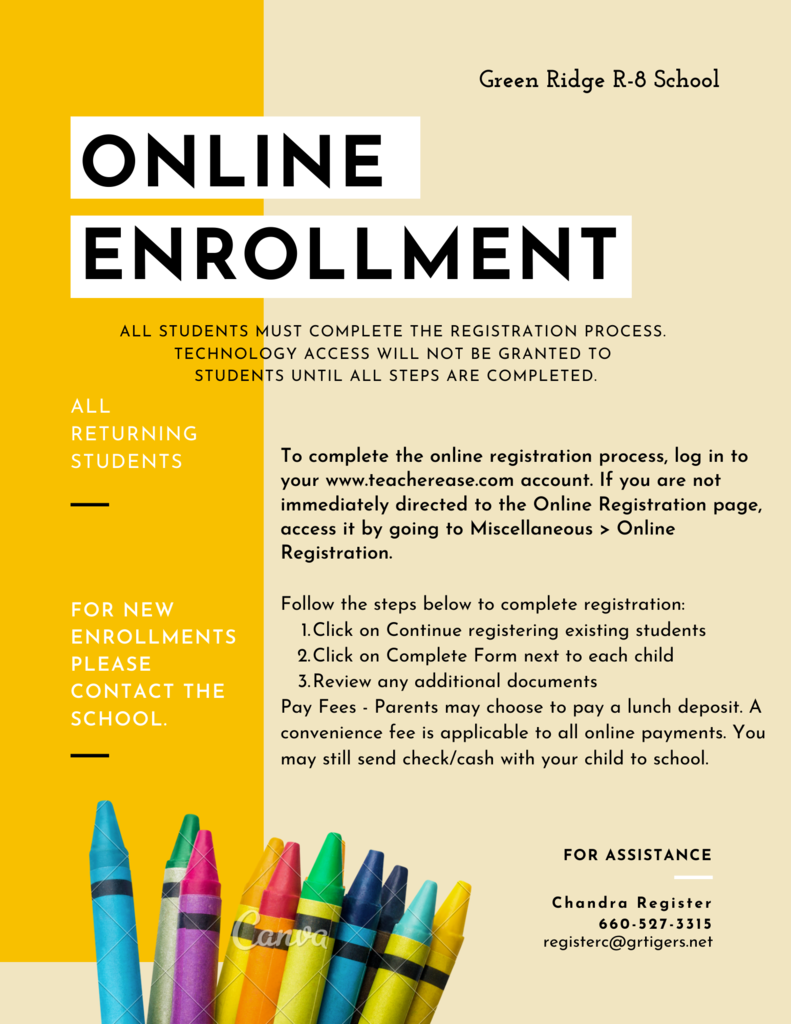 Title I meeting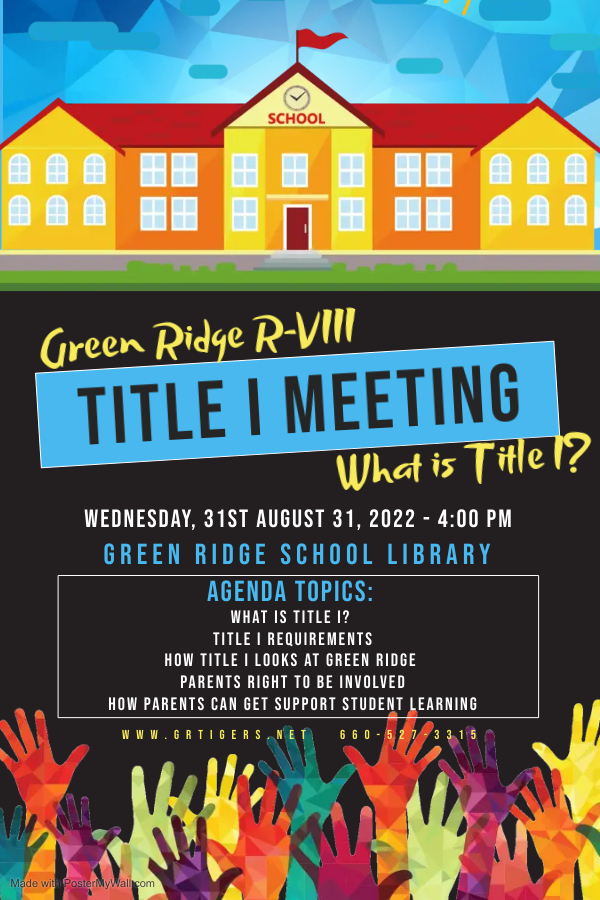 Hey Tiger Families, If you have an elementary student interested in volleyball, get them signed up with the GRRO.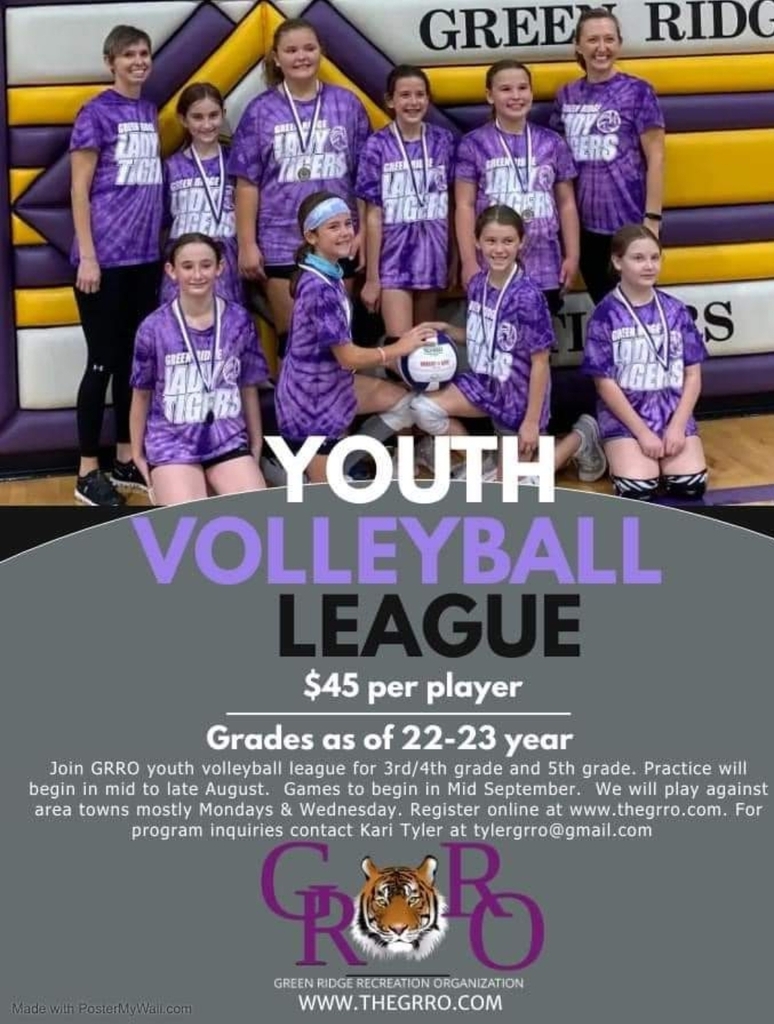 We have had great music camps this week! Band has been hard at work learning new music, refreshing their minds on marching technique, and a few brand new things. It's not all work and no play! We played a couple games to round out a few of our days. All in all, it was a good time and we are looking forward to getting back to playing music together. Harmony has been challenged to step-up their choreography game and they are crushing it! They have been picking the moves up quick and working hard. With as much fun as they are having, it hardly looks like work!