Congratulations to the Running Tigers and their performance at the Knob Noster Cross Country Invitational. This was the Tigers' first meet of the season. At the high school level, Callie Knoernschild set a PR and ran the course over three minutes faster than last season. Savannah Nilson also improved her time on this course from last season. Ayda Tucker finished very strong for her debut race. For the Jr. High, Trenton Sawyer blew away the competition finishing 1st out of a field of 65 . Evee Porter pushed hard to secure 15th place and set a PR! Lilly Viebrock gave it her all in this, her debut race as well. Way to go GRXC!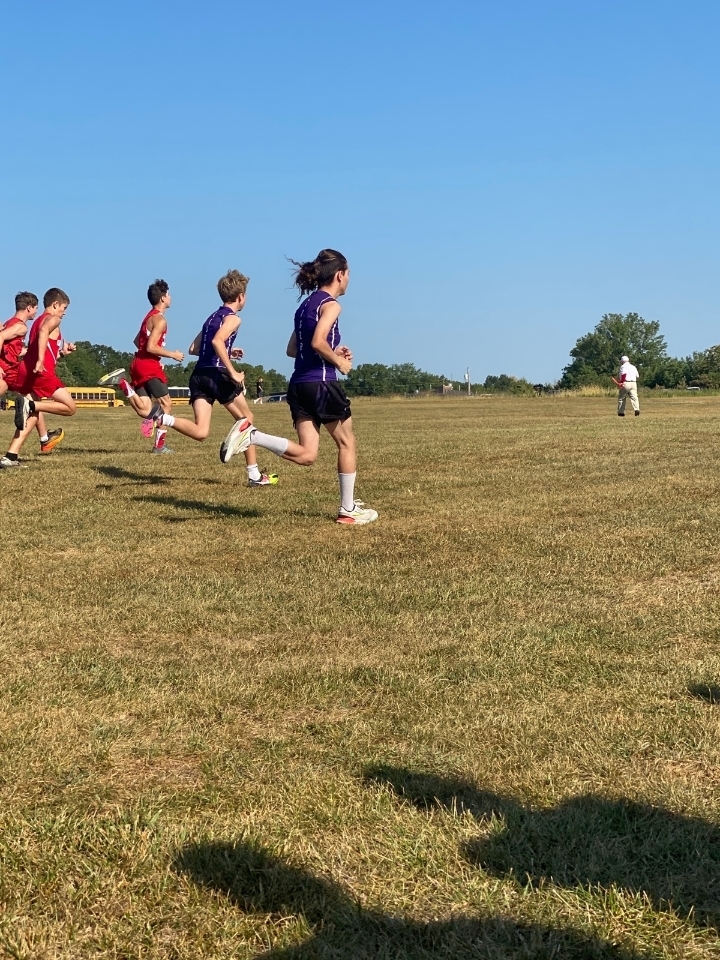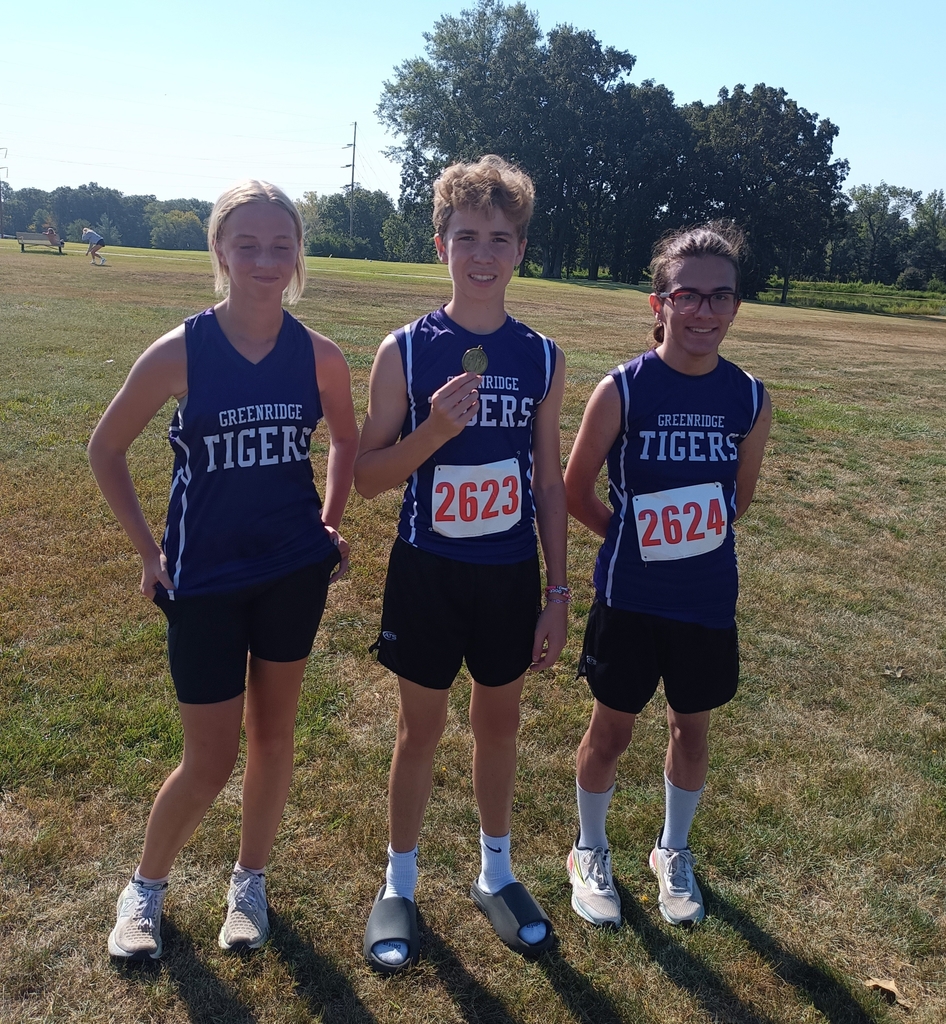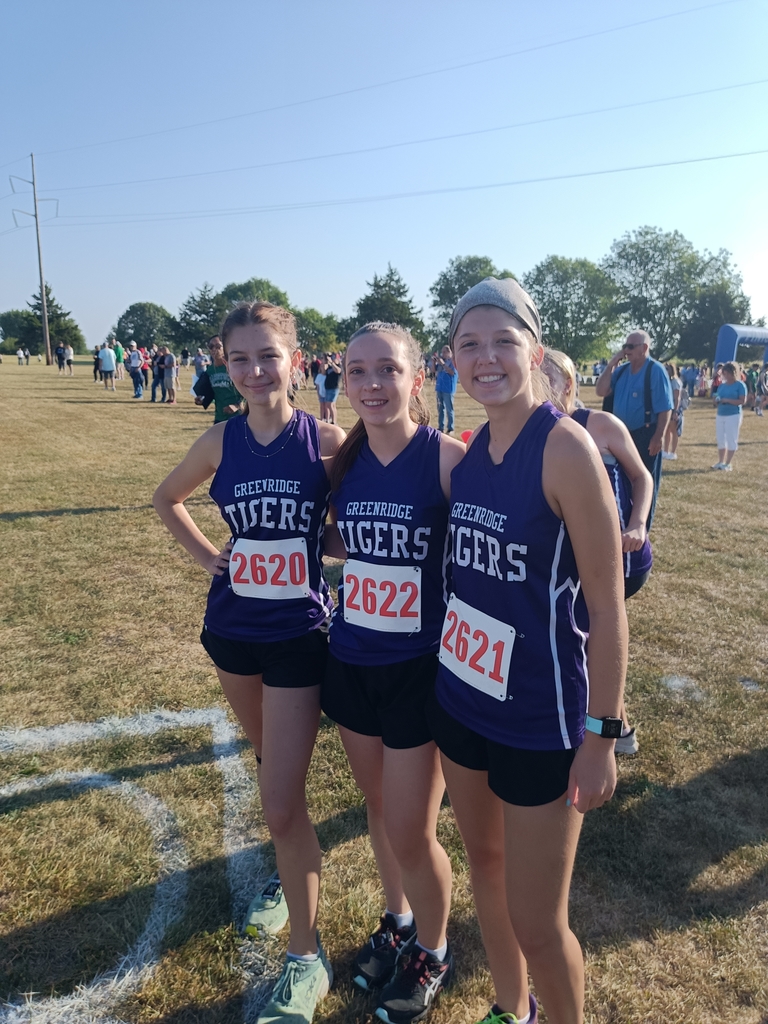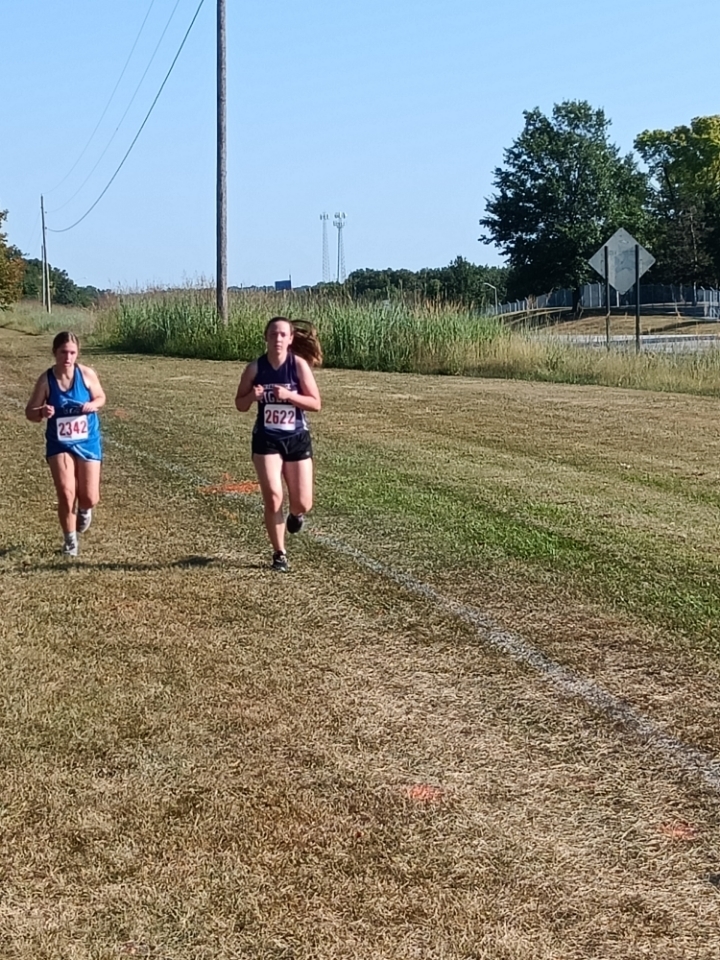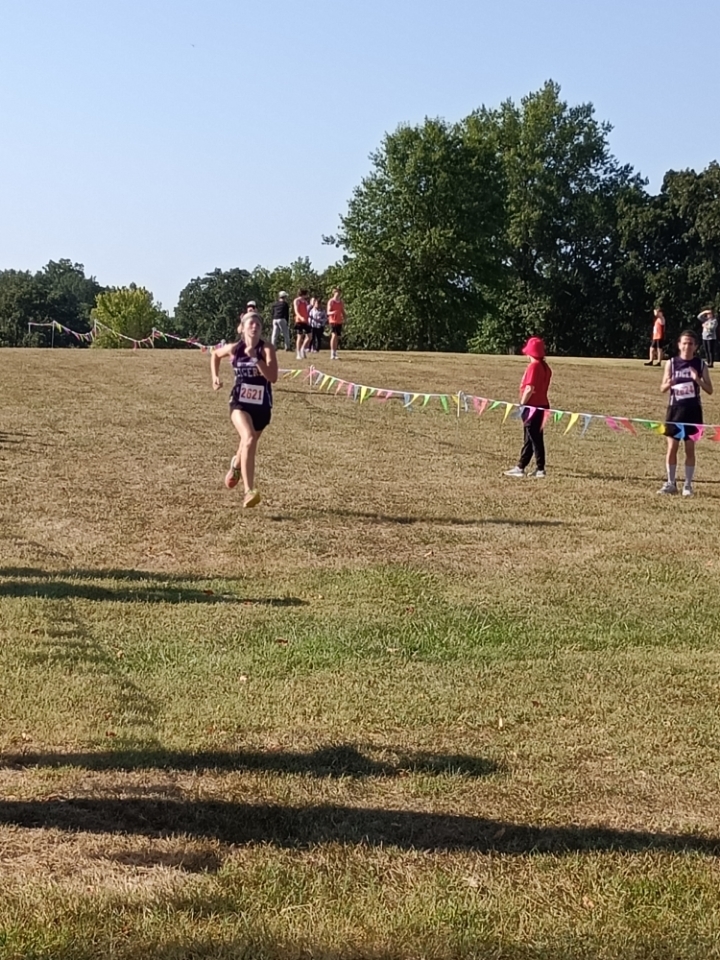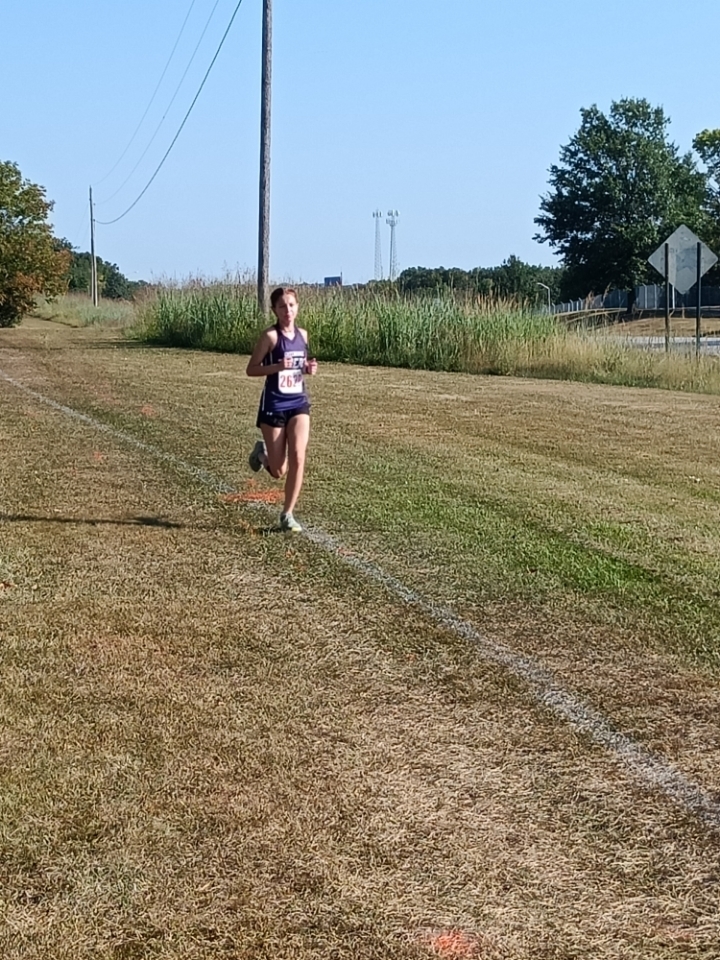 GR8 things are happening in 4th grade!!! From Mrs. Davis: "Our class was learning what blind people can actually see, so after learning about it, we built an eye. Well it works like our eye, and it helps us understand different degrees of blindness and why some need glasses. We are going to be doing our experiment next week."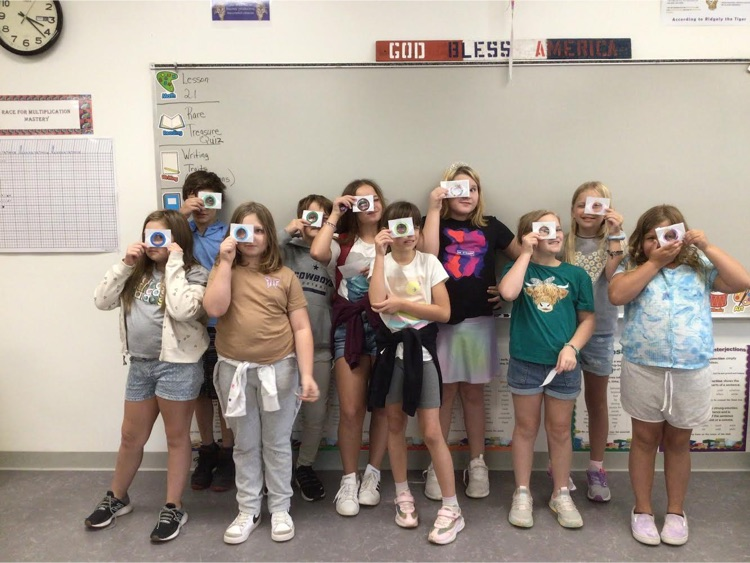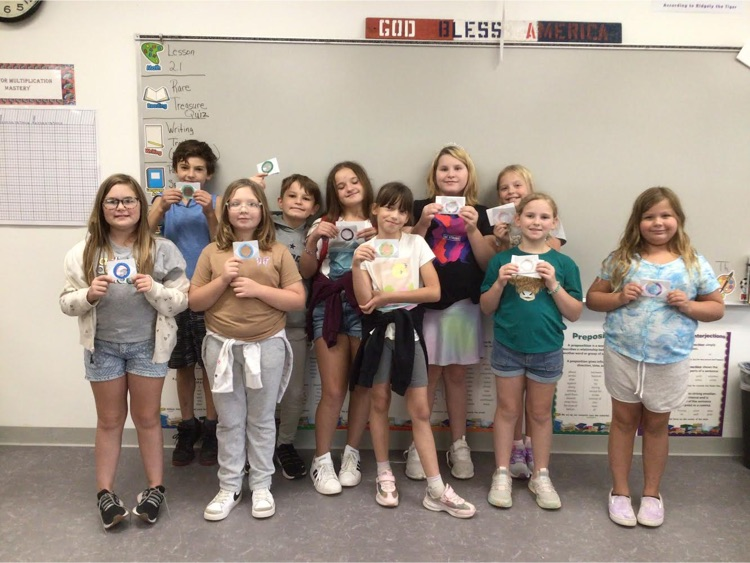 Mrs. Johnson's 3rd Graders made it rain with a Rain in a Jar Science Experiment!!! Science is so cool!!!!!!!!!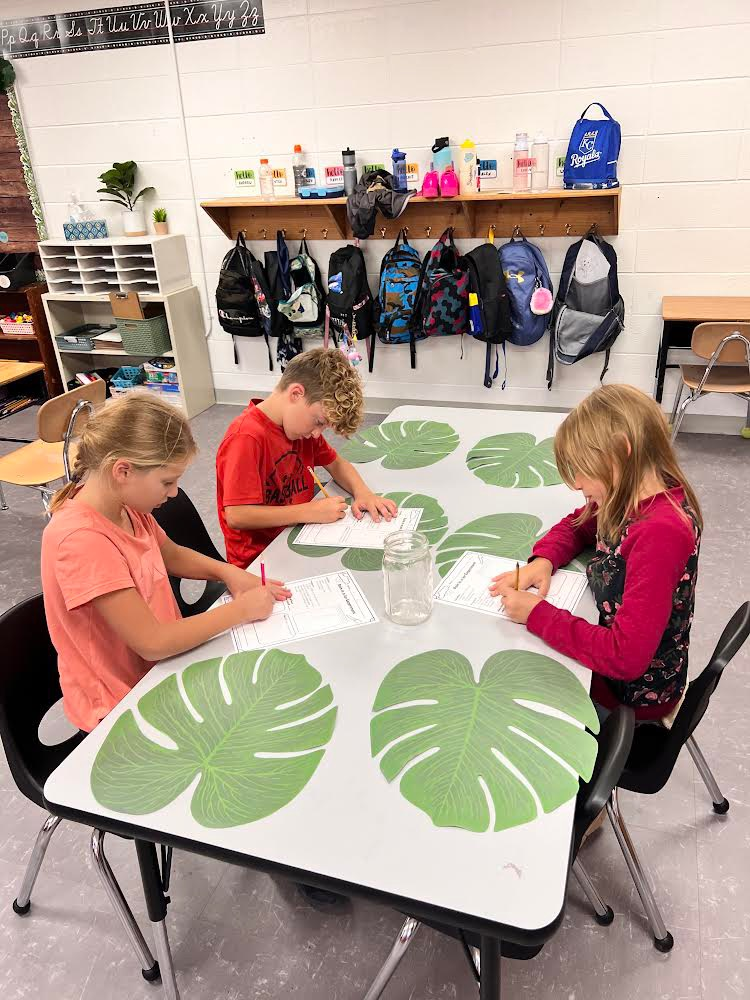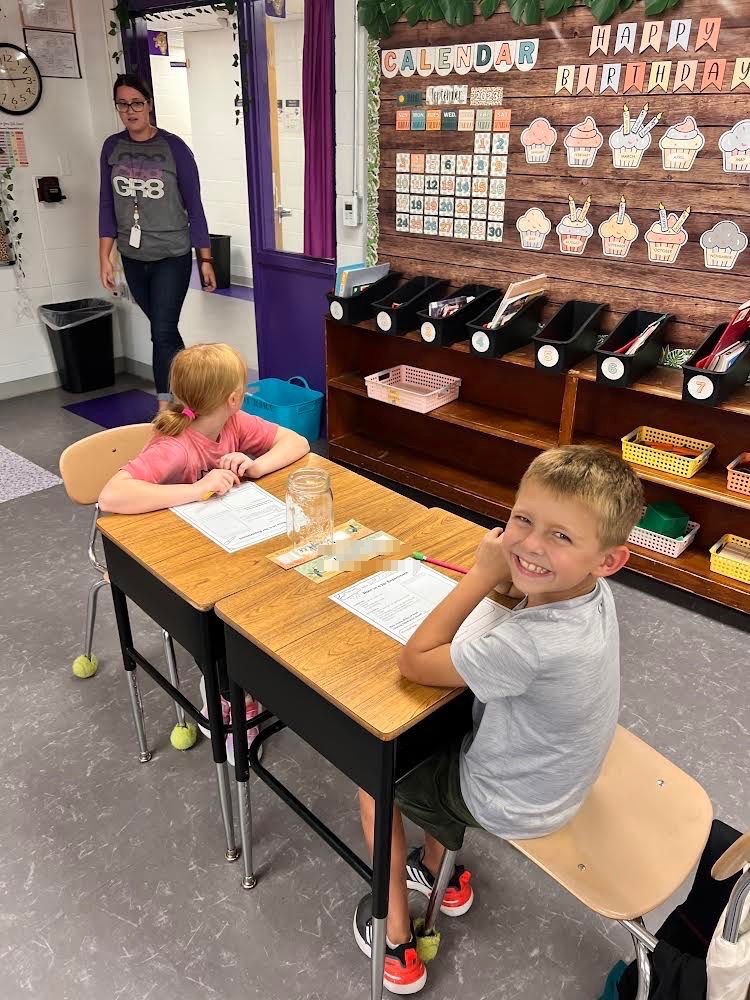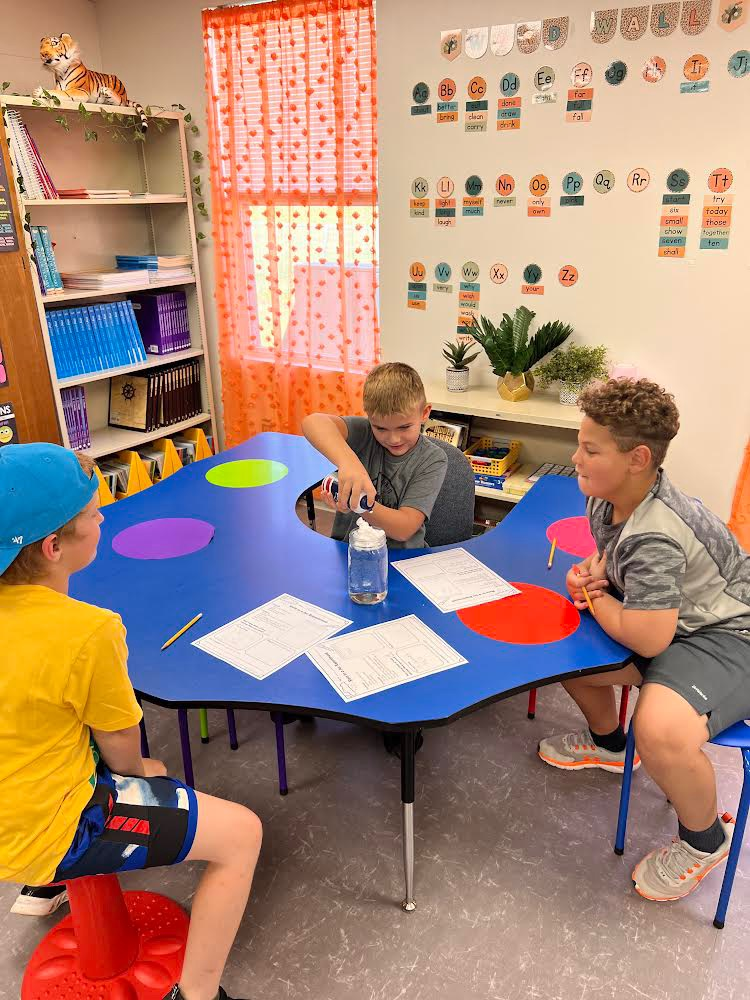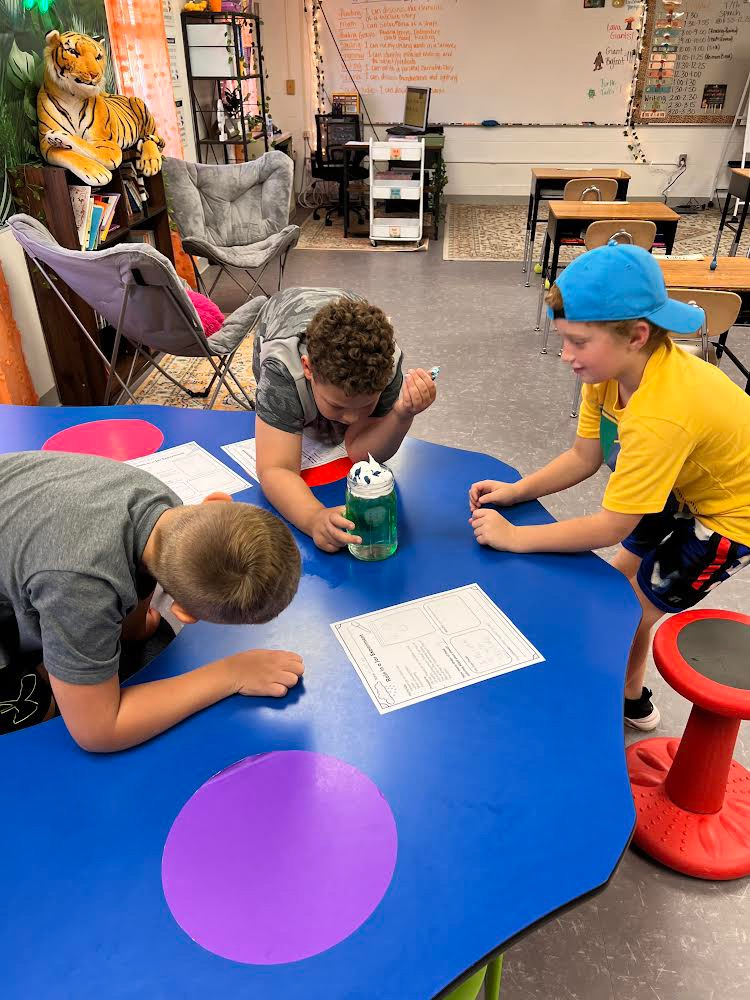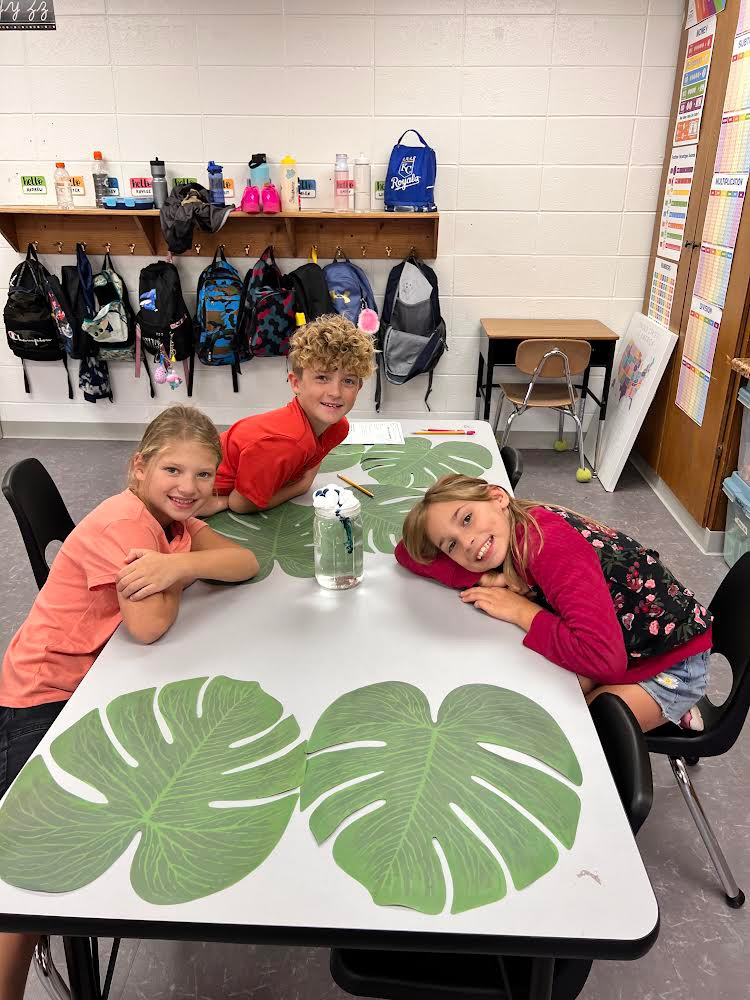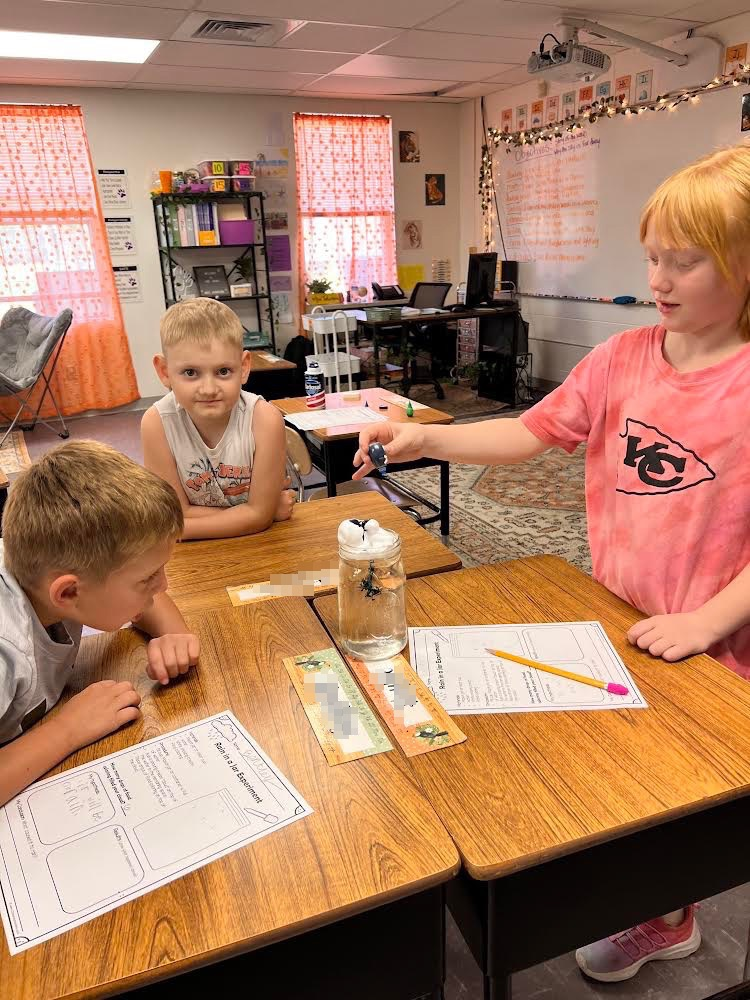 Mrs. Bates had some of our TAs and Cadets teaching and dancing with first grade. This new, funny, silly song was perfect for strengthening their sense of beat!🎶🎶🎶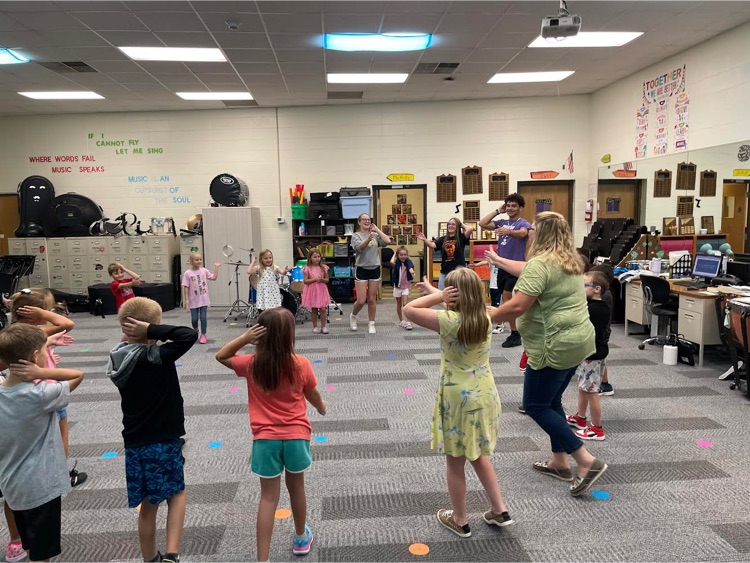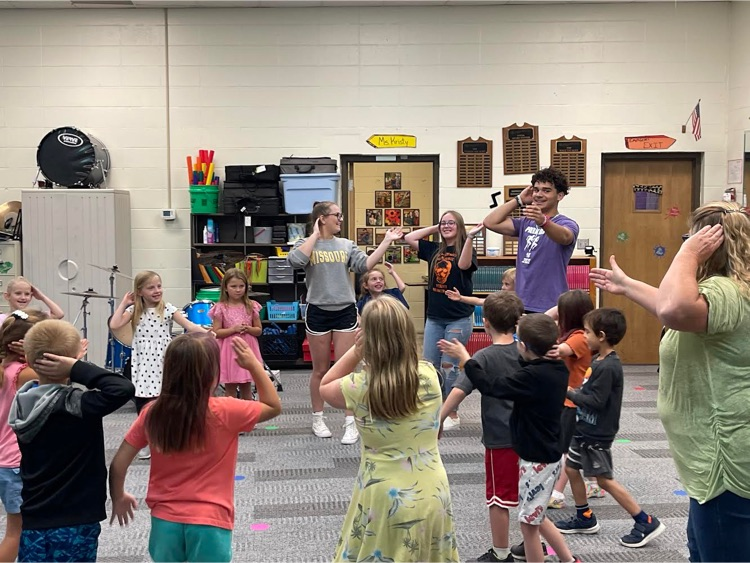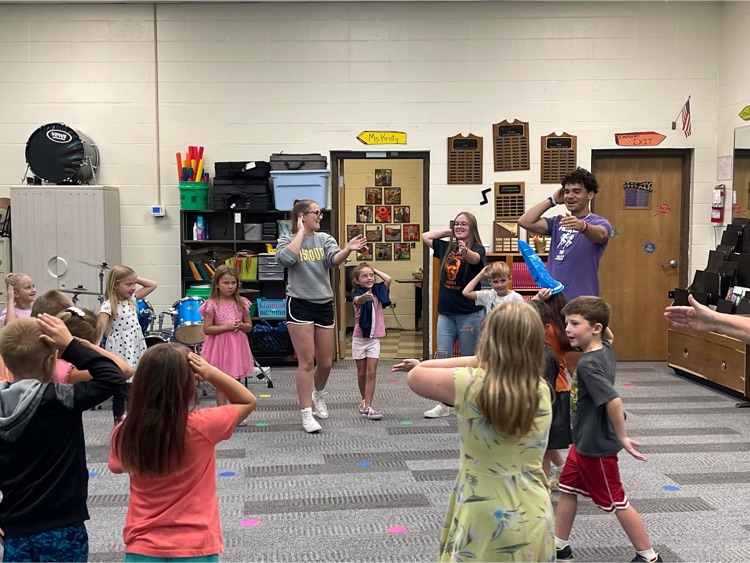 Ms. Schmidli's 6th graders learned about the different types of nouns (possessive, common, proper, collective) and then demonstrated their knowledge by working together to sort nouns into different groups.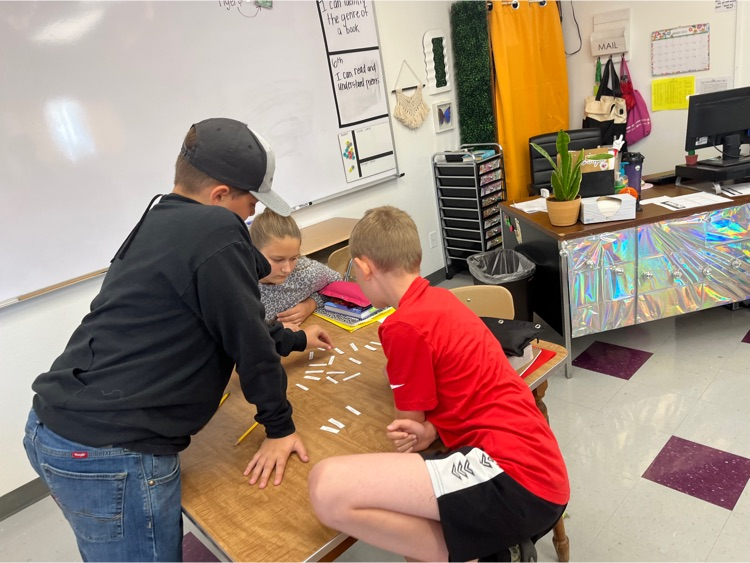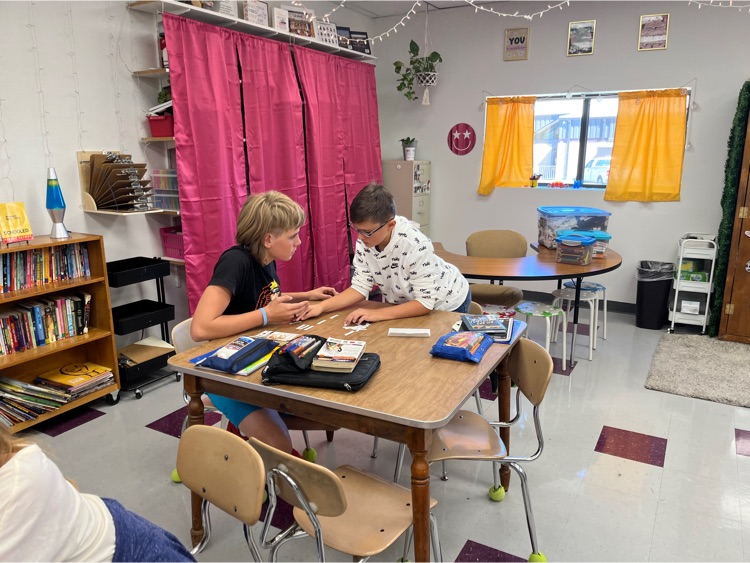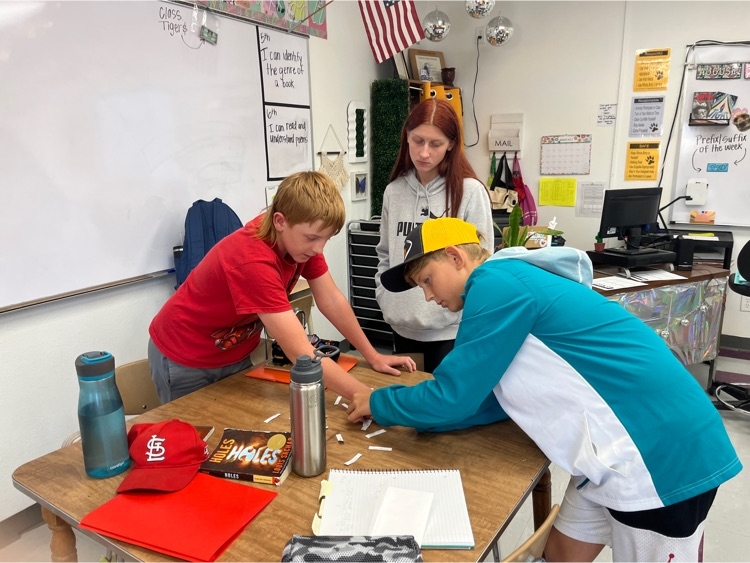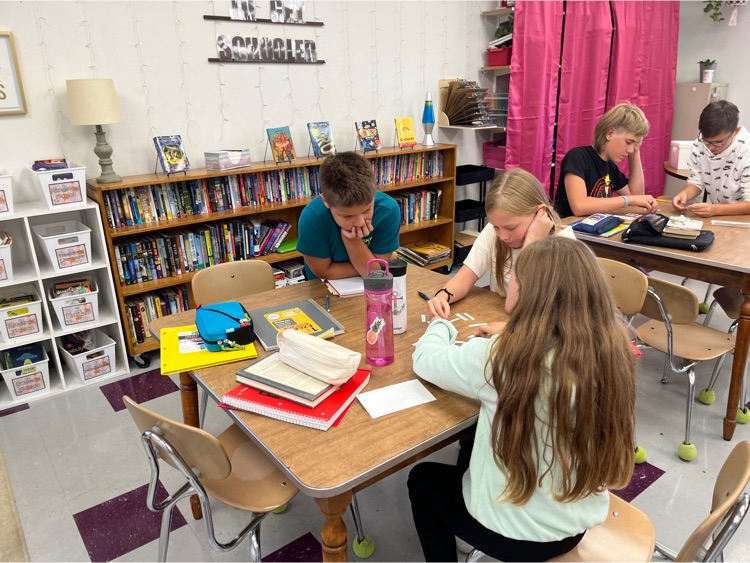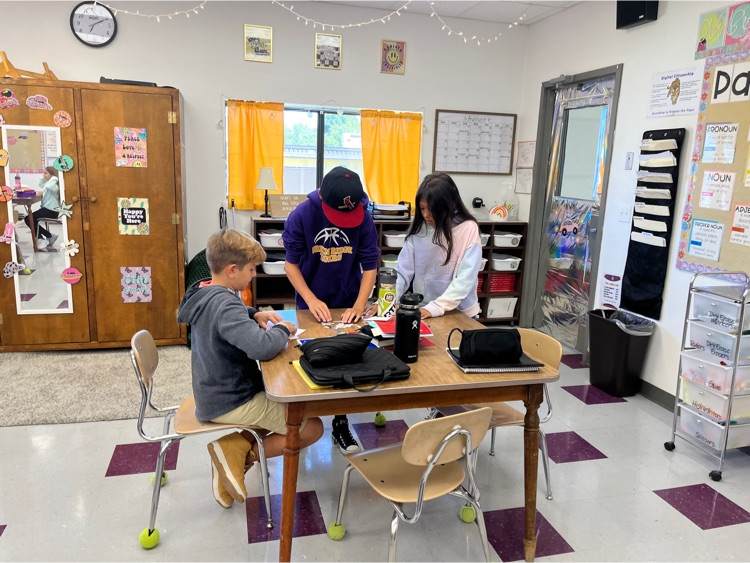 Mrs. Warner's A+ student, Grace, worked with students on sight words in an engaging game of Go Fish while Mrs. Warner tested a small group.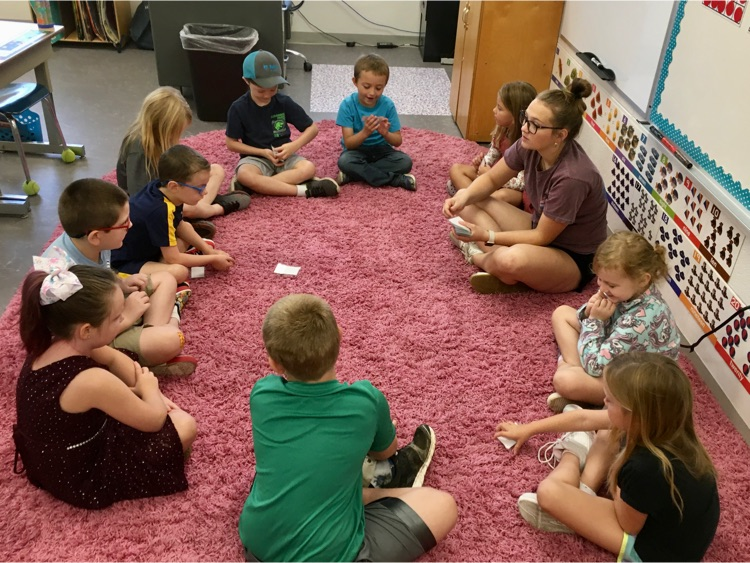 Volleyball is Traveling to Cape Girardeau to participate in the Dig for Life Tournament. Good luck Lady Tigers.

First graders used math manipulatives as tools to solve their math problems today!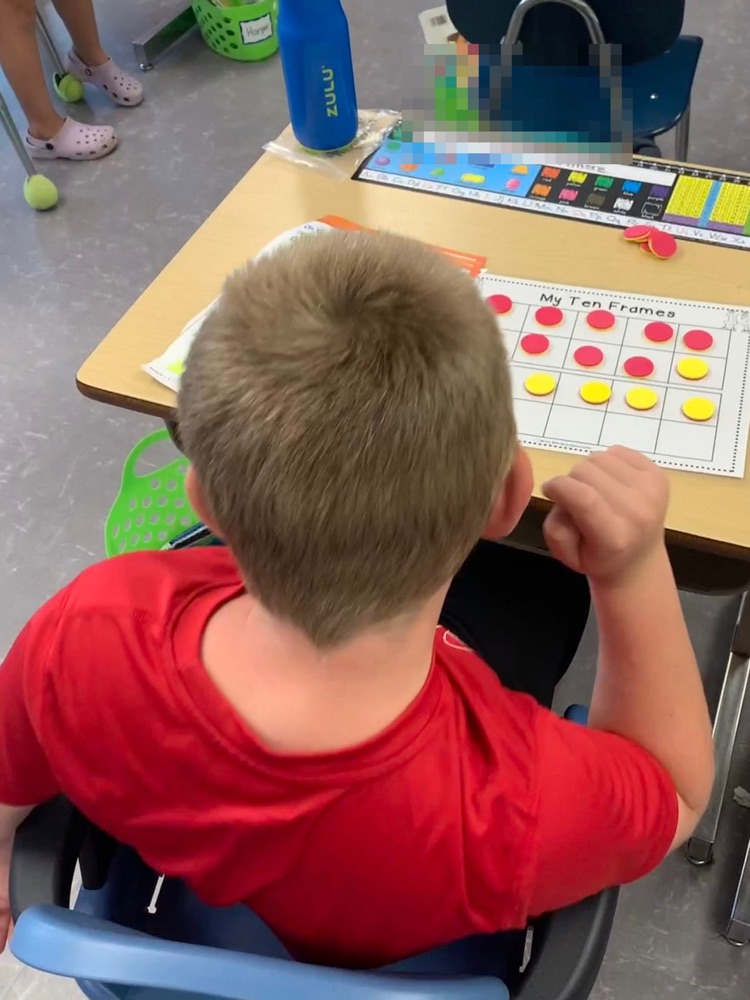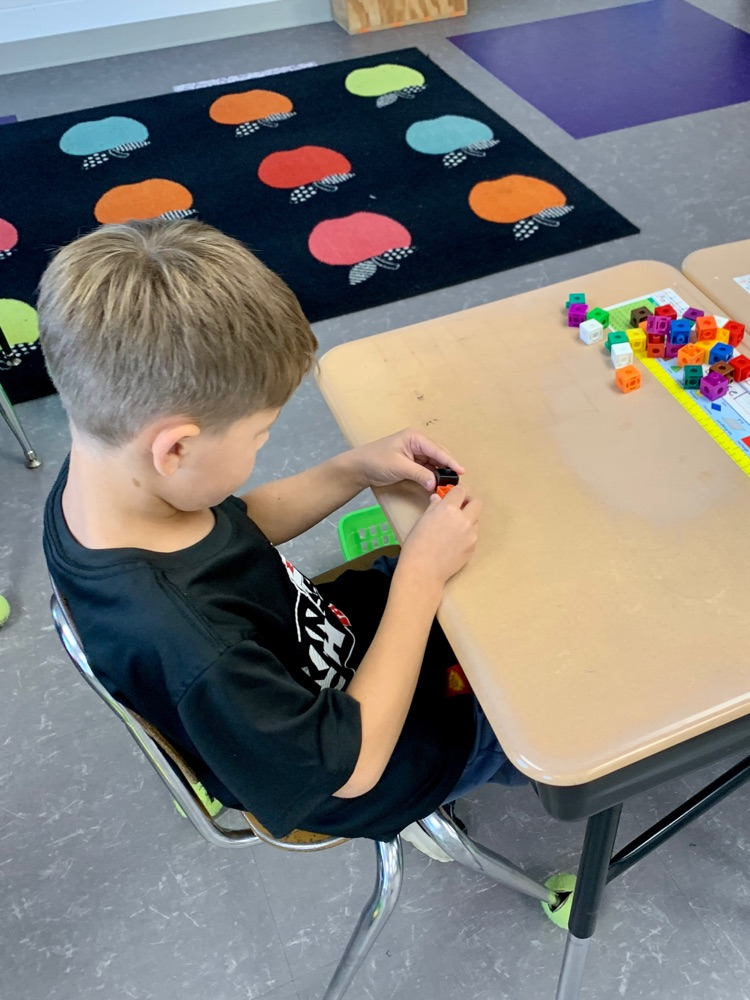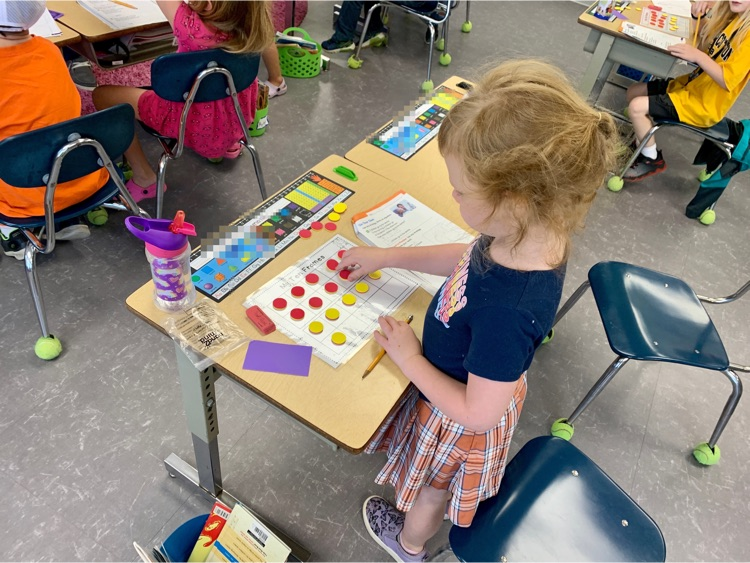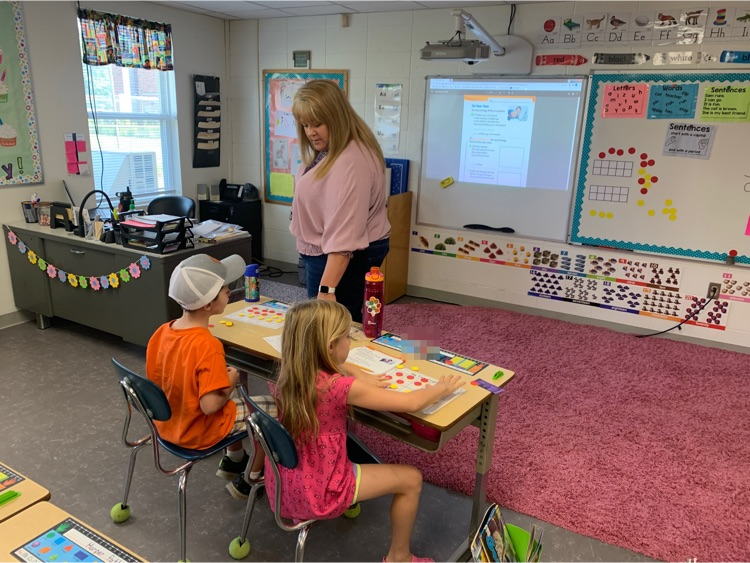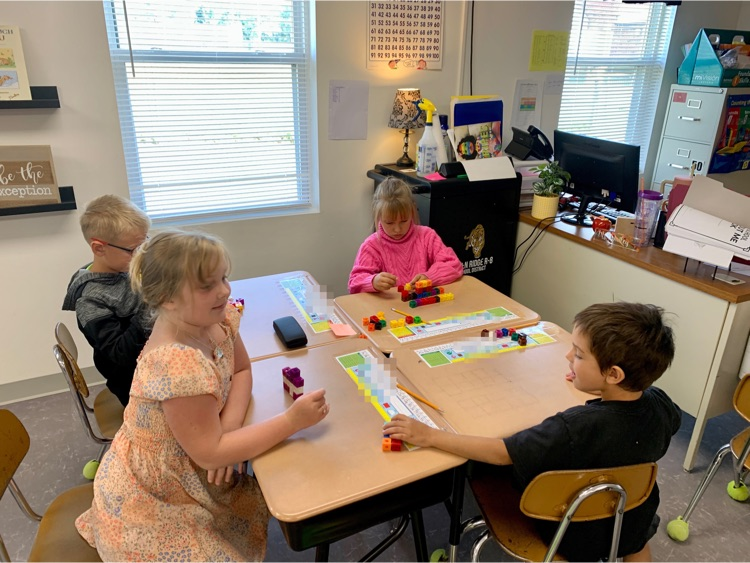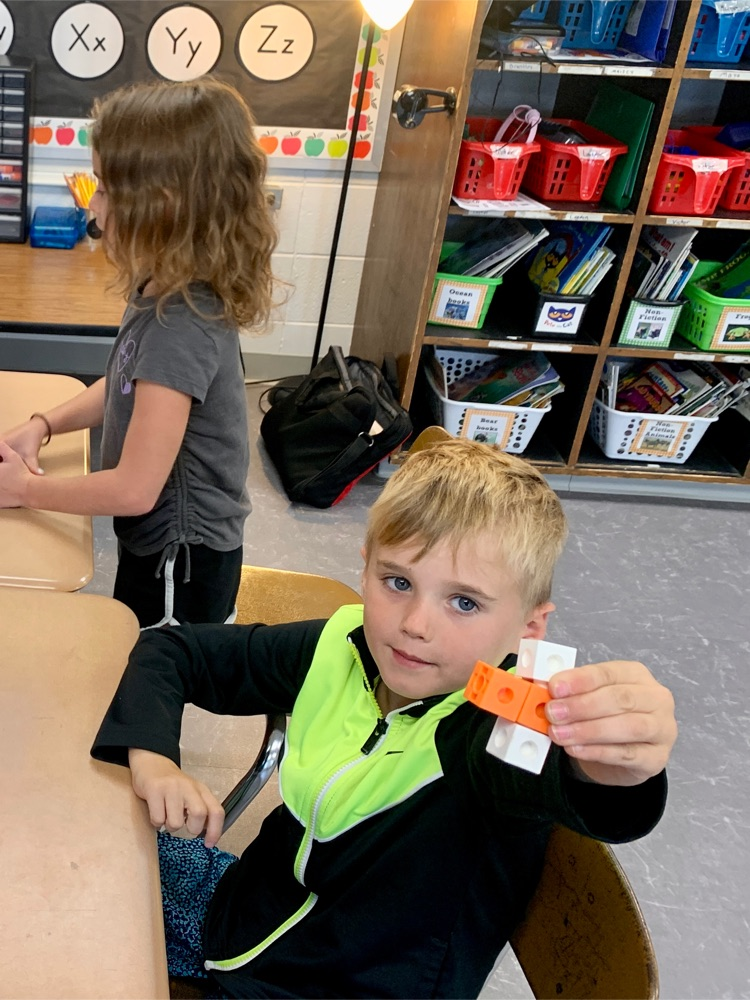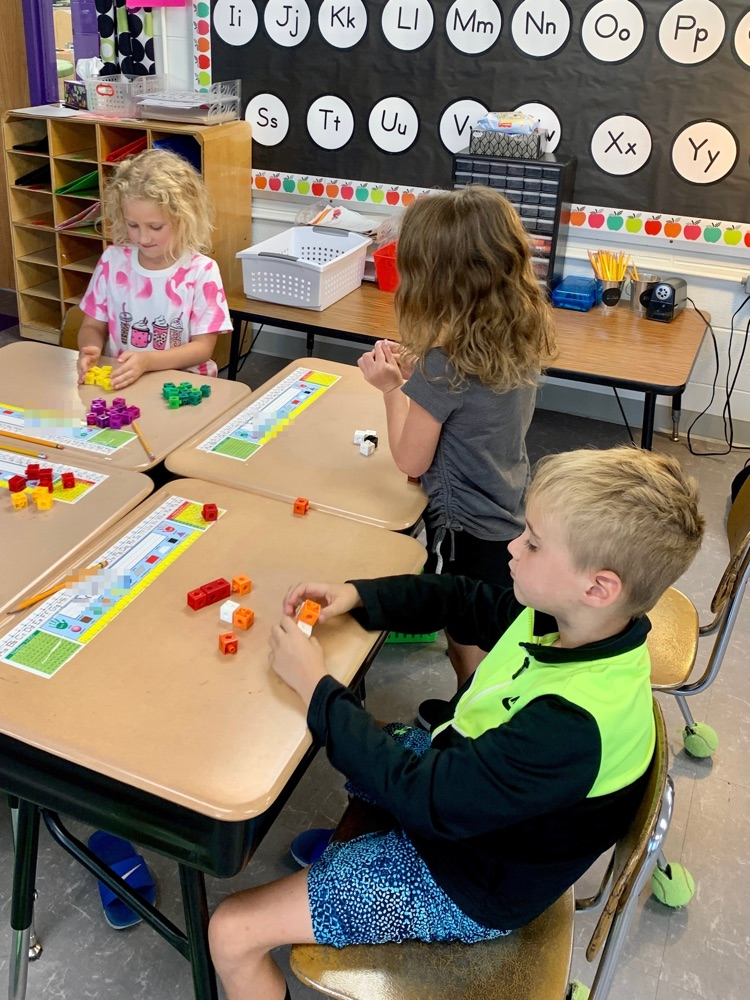 Band is traveling to the Cole Camp Fair to participate in their parade this evening. Soccer is continuing their play in the Clinton tournament. They will play against St. Paul Lutheran with kickoff at 5:00 p.m. Volleyball will continue their home stand with a varsity contest against Crest Ridge this afternoon with a start time of 5:30 p.m. Good luck TigerNation!

Girls Golf travels to Cole Camp this afternoon for their second match of the season. Tee off will be at the Cole Camp golf course at 4:00 p.m. Soccer's contest from last night was postponed due to lightning, and will resume tonight at Clinton with a start time of 6:45. Good Luck Tigers!

Soccer's contest has been postponed due to lightning. They will continue their contest tomorrow night at 6:45 pm. Good luck tigernation.
Sending out another reminder: GR Soccer is having their annual 5k run fundraiser on Saturday, September 16th, during Green Ridge Park Day, If you would like to participate in the run: Date: September 16th, 2023 Start/Check-In Location: Katy Trail Station, Green Ridge, MO 65332 Check in @ 7:15 AM Even Starts @ 8:00 AM Cost: $25 If you would like to pre-register online you may go to:
https://forms.gle/vQafhyHWsmCYuTxF7
You can also pre-register at the School Office or the GR Post Office, Otherwise you can register/check-in on Sept. 16 before the event as well.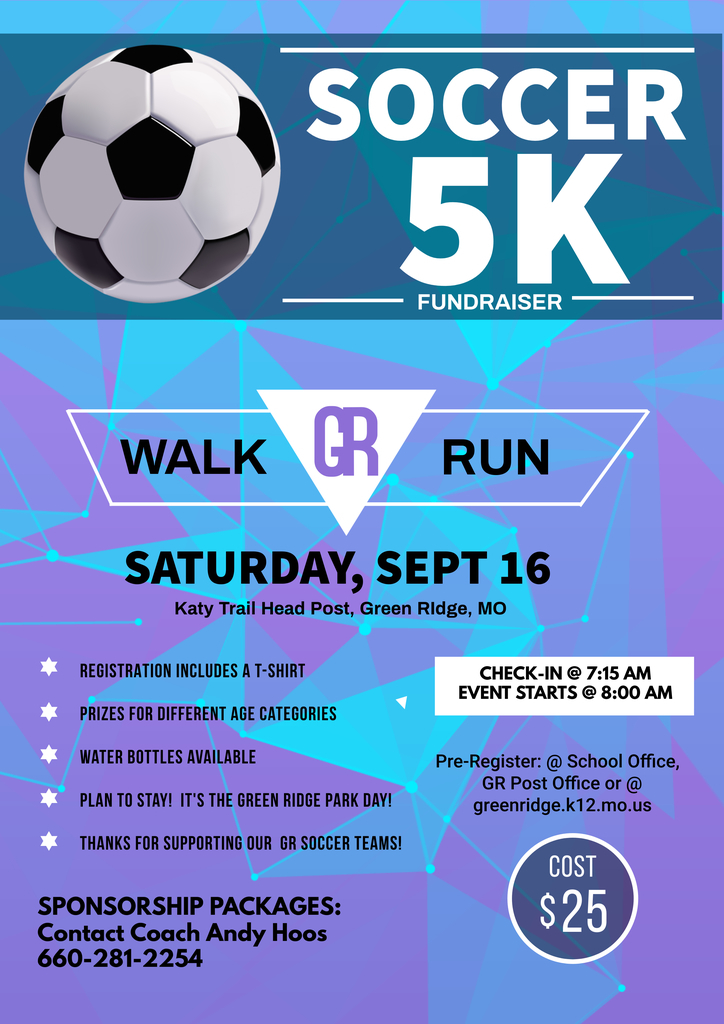 Green Ridge Lady Tigers dropped their second matchup of the 2023 season, taking on a high-powered Knob Noster Lady Panthers volleyball team.  Controlling the first 2 sets, Lady Tigers couldn't hold off the fire power of the Knob Noster offense losing in five sets 25-21, 25-20, 13-25, 16-25, 9-15. Leading the Lady Tigers offensively was junior setter, Sydney Gordon, who ended with a triple double for the night (12 kills, 22 digs, and 15 assists)!  Senior Nevaeh Washington added in 9 kills with 4 aces and 19 digs.  Emery Cannon, a sophomore hitter finished with 5 kills, 3 aces, and 17 digs.  Junior setter Mallory Reed distributed the ball for 15 assists.   Lady Tigers take on volleyball powerhouse Santa Fe Chiefs on Tuesday 9/5 at home with a 5:30 start time.

Good Morning TigerNation! This afternoon the Soccer Tigers are traveling to Clinton to play in the Clinton Tournament with their contest starting at 6:45 against the Cardinals. Volleyball is at home this evening against the Santa Fe Lady Chiefs, playing a varsity only match, and starting at 5:30. Good Luck Tigers!
HS soccer got their season off on a good start Thursday with a win over Stover HS. Weston Crawford opened the scoring with an unassisted goal in the games 19th minute. With just over 10 minutes left before half, Mark Pavlioglo was taken down hard in the penalty box and Kaelyn Ray punched in the PK attempt. Coming out of halftime with the 2-0 lead, GR once again got on the board first in the second half with a goal in the 9th minute by Raul Ramirez. The Bulldogs continued to fight hard and earned a PK at the midpoint of the second half to bring the score to 3-1. The Tigers and Ramirez answered just 3 minutes later with a shot from the left side which found the back of the net. Undeterred, Stover came back and found the back of the net less than a minute later with a goal which slipped past goalkeeper Mateo Rivas. The score remained 4-2 until the final whistle blew. Overall, both teams played solid soccer in what was each teams first game of the season. Up next for GR is the Clinton tourney next week with games on Tuesday (6:45), Thursday (5:00) and Saturday (9 AM). Come out and cheer on your Tigers.

Green Ridge Tiger Volleyball is headed to Knob Noster this evening for a varsity only contest. The match starts at 5:30 pm at Knob High School. Green Ridge Soccer is competing in Stover this evening against the Bulldogs. Kick off is at 5:00 pm. Let's go #tigernation

Mrs. Thompson's 4th graders started creating a colorful flap book to help them remember all the different kinds of figurative language.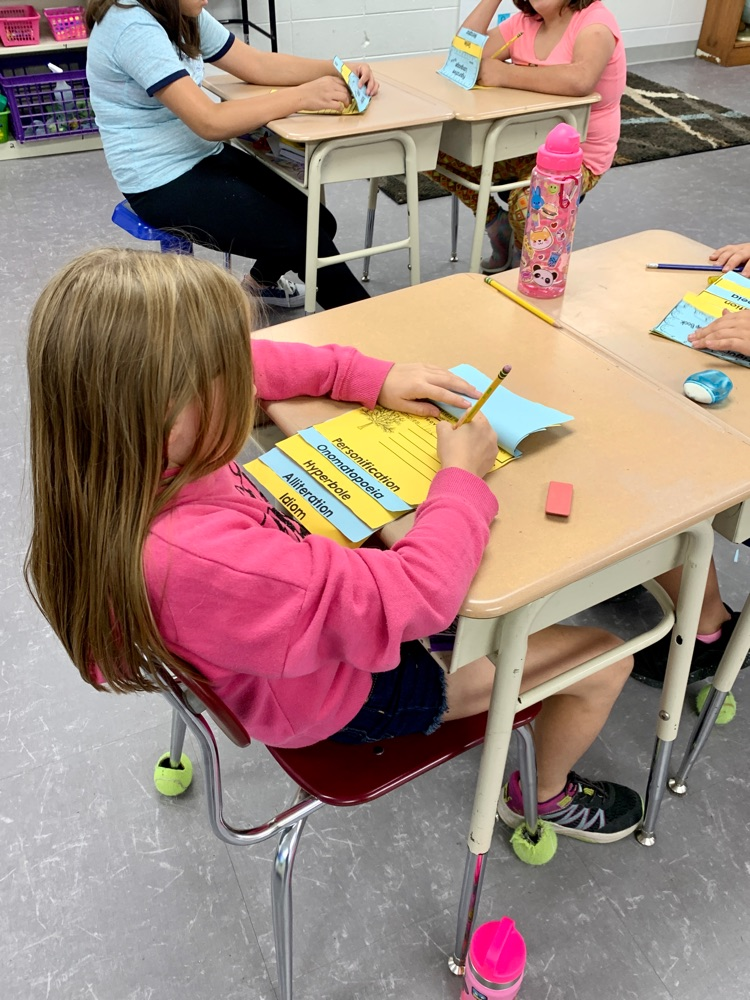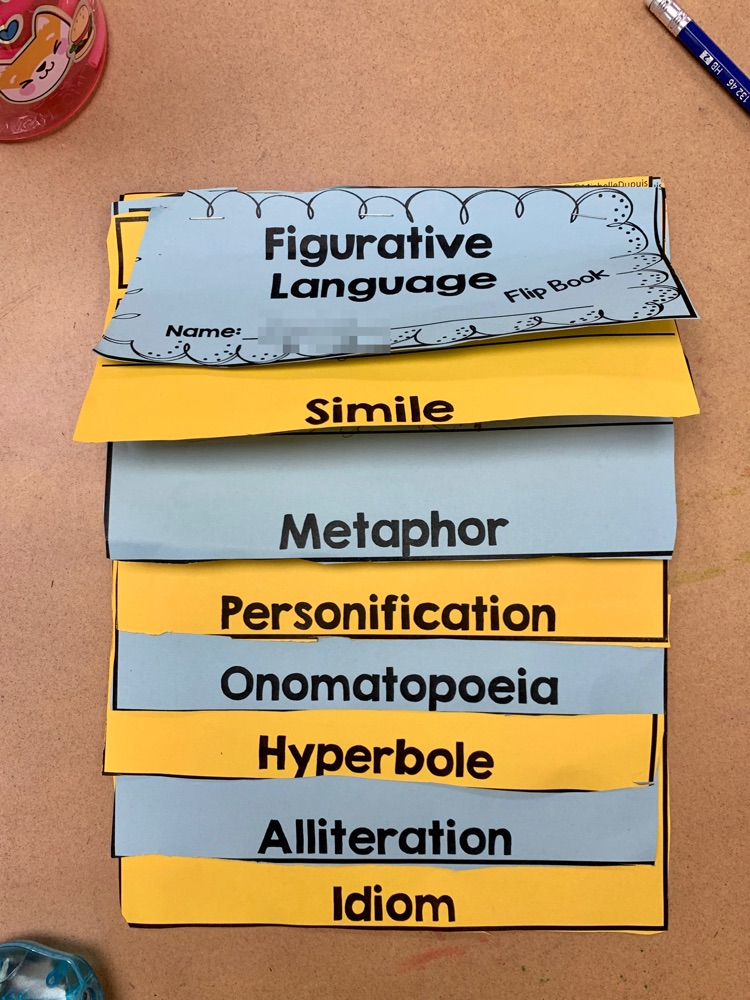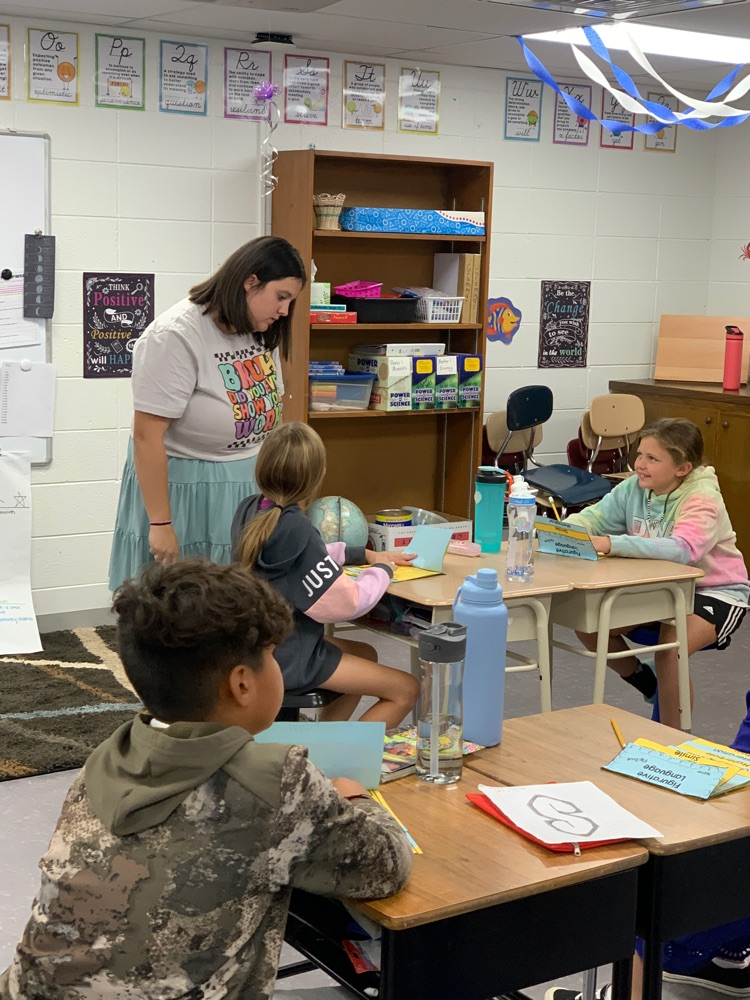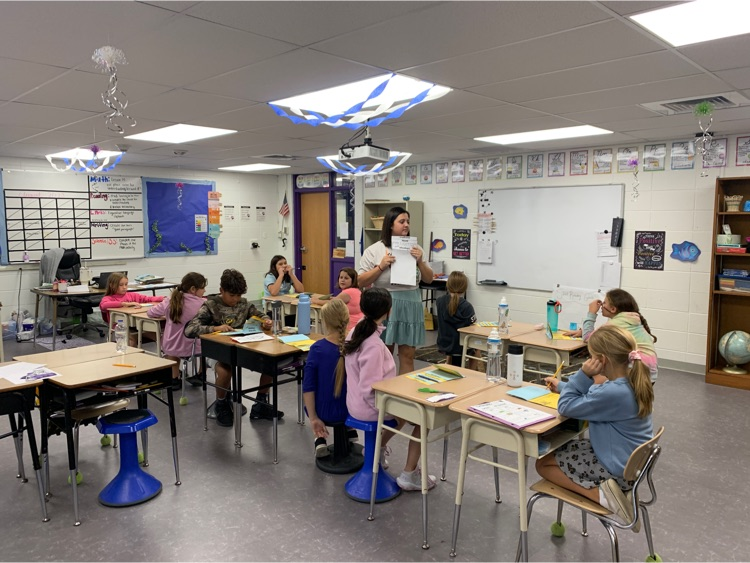 Mrs. Davis and her 4th graders have been learning about joints in science. They got to see how the joints work in chicken feet! Then, they built a robotic hand to be as similar to their own hand as possible!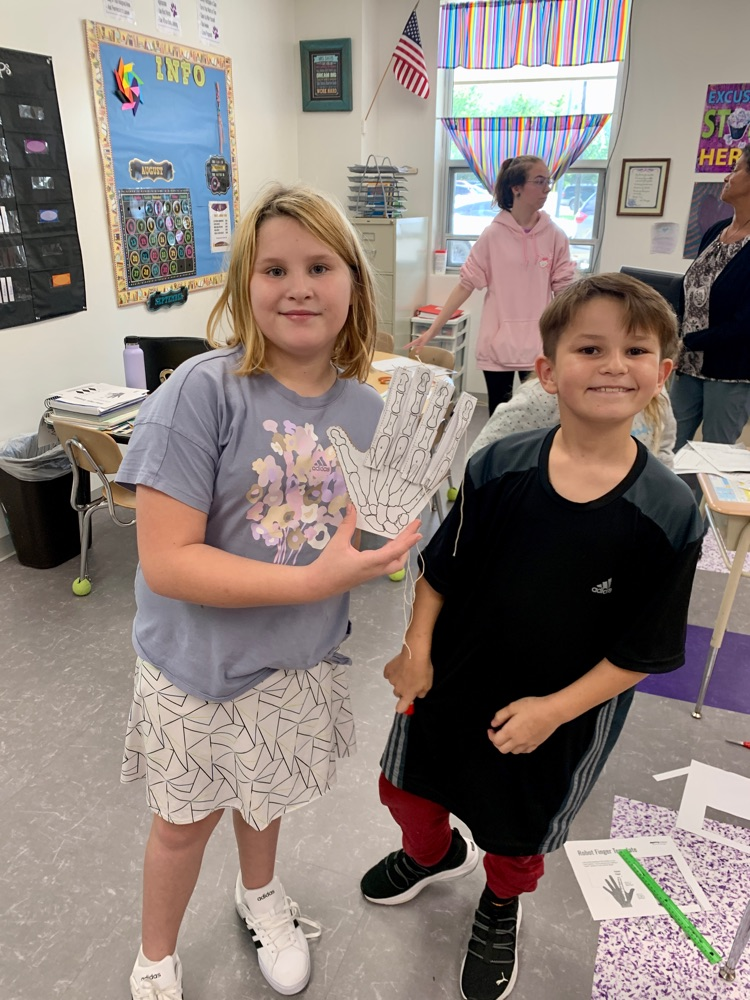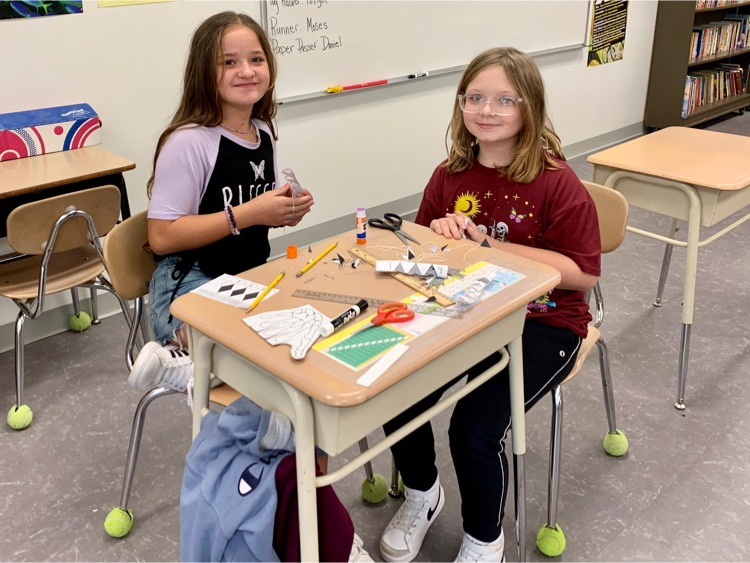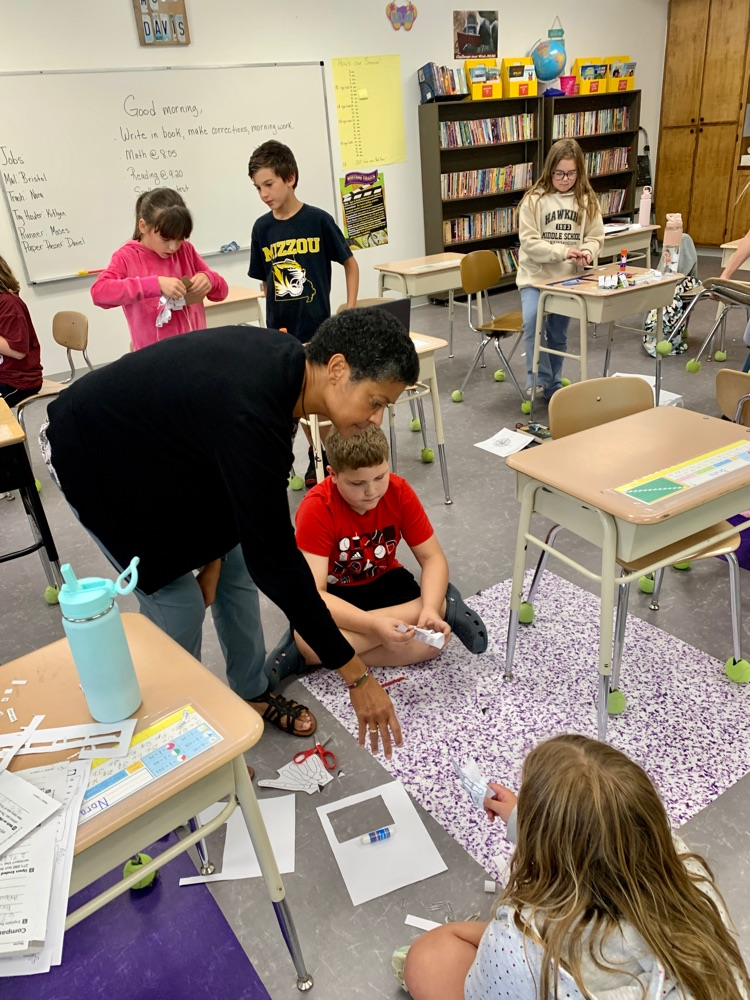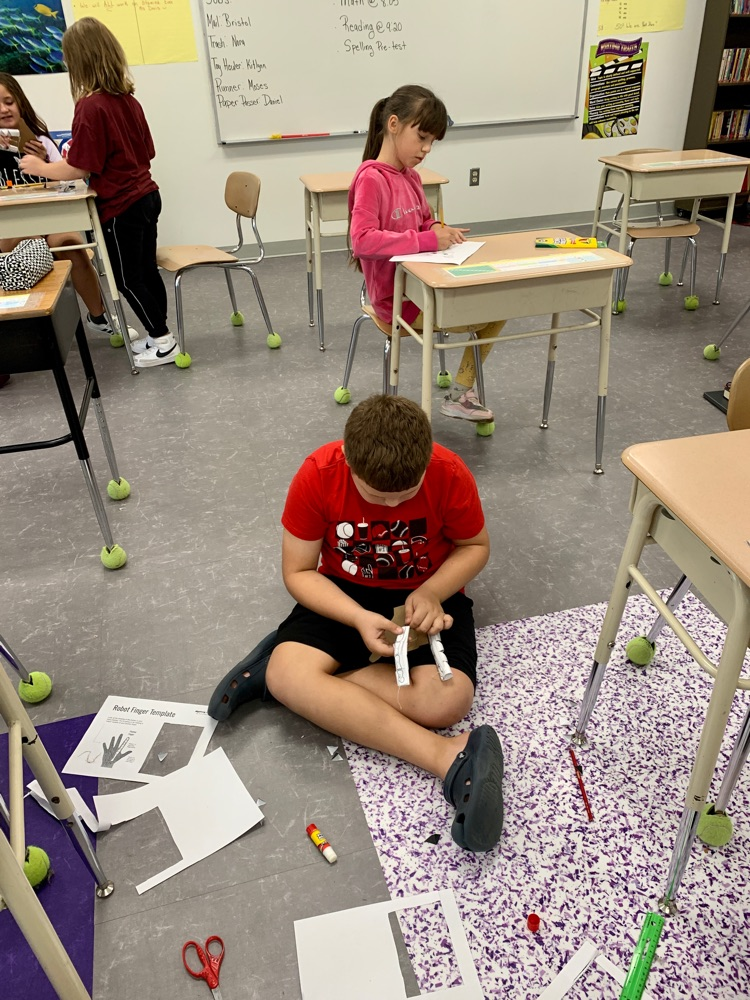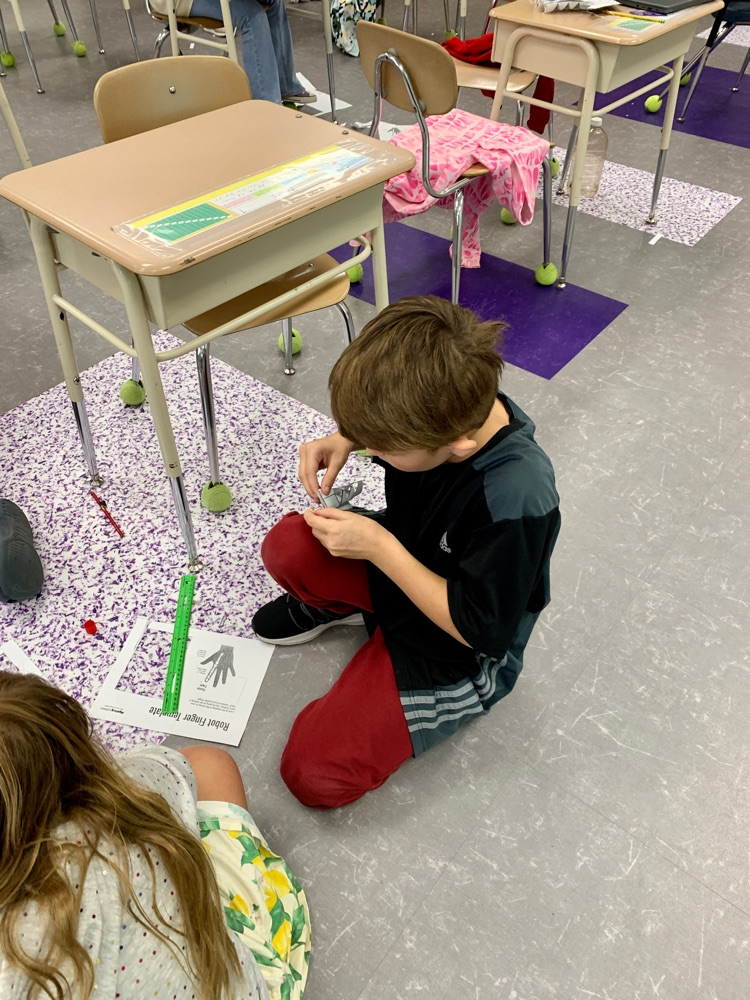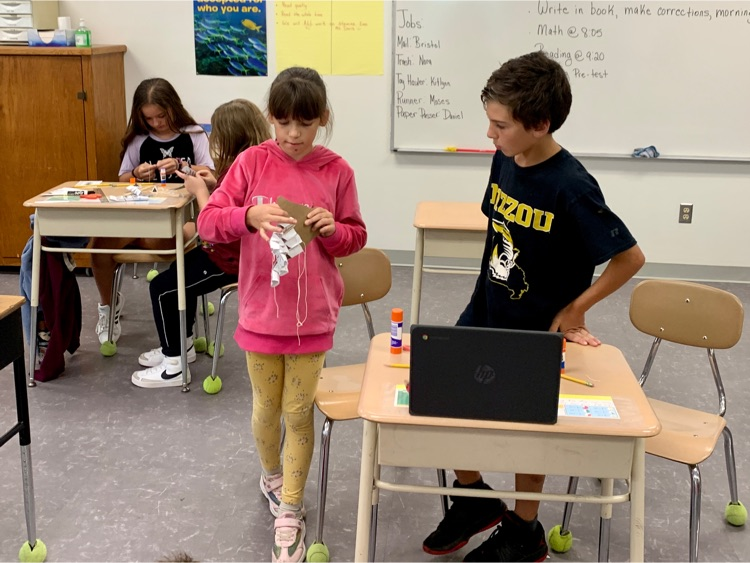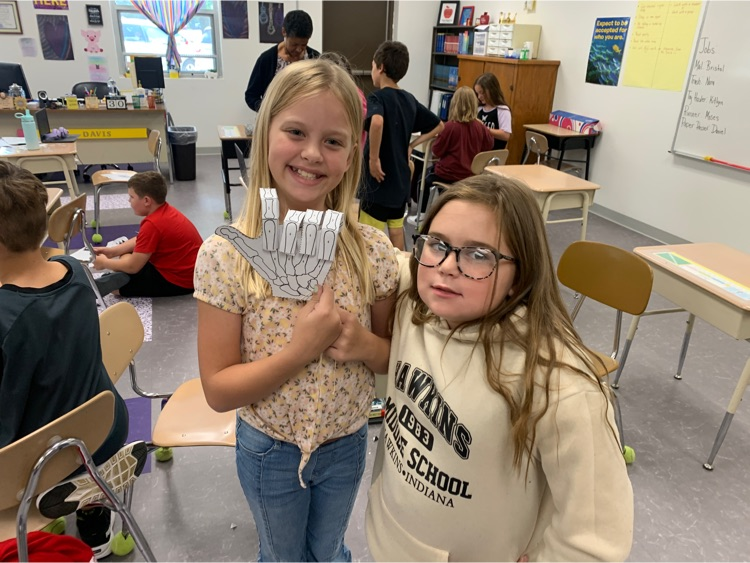 Mrs. Hammers and Mr. Edington held an after school meeting to check in and continue to offer support to our new Green Ridge teachers! Mrs. Zimmershied provided information from the Mentor Program, and Mrs. Hubbard was on hand to offer additional assistance and insight. At GR8, "we rise by lifting others!"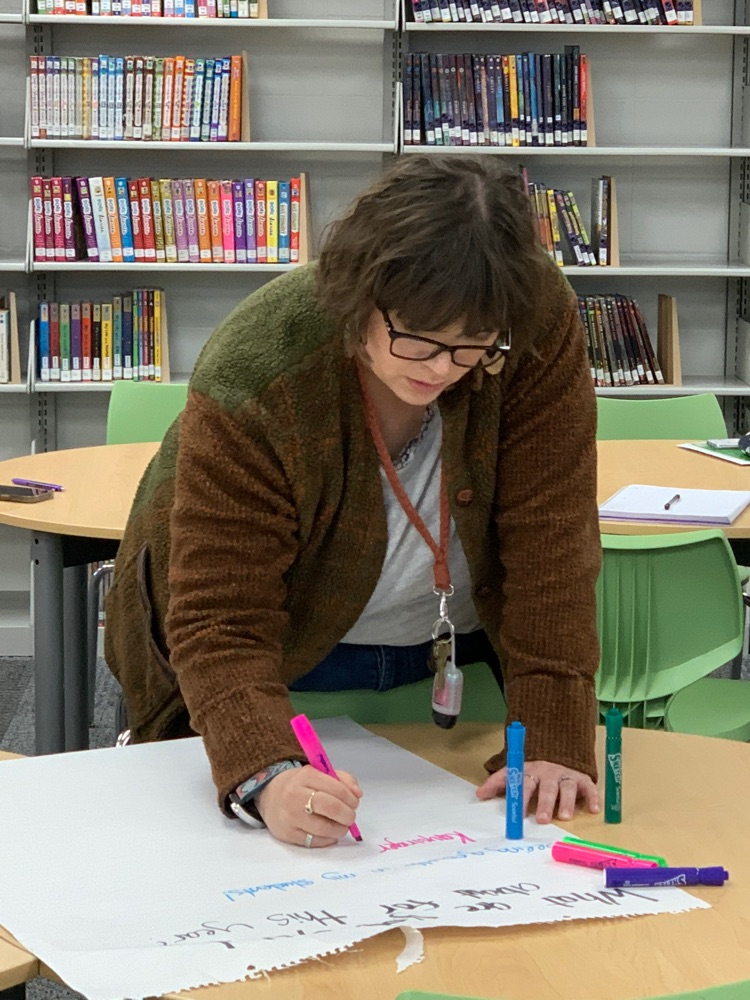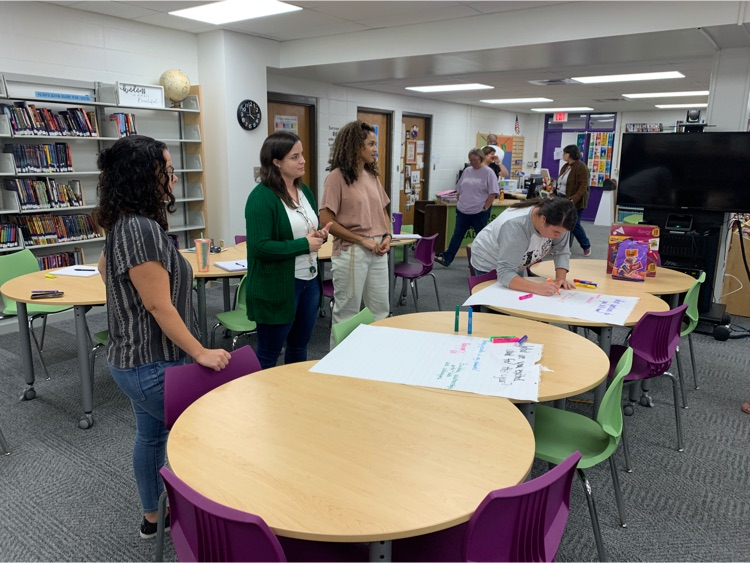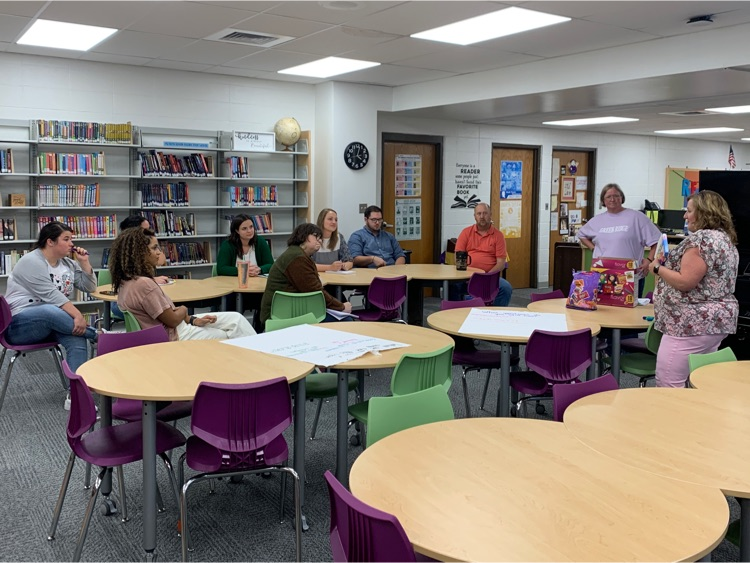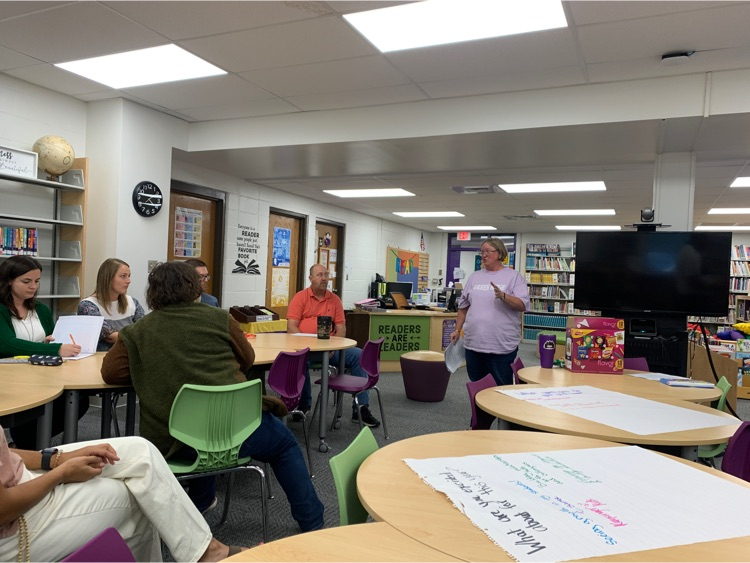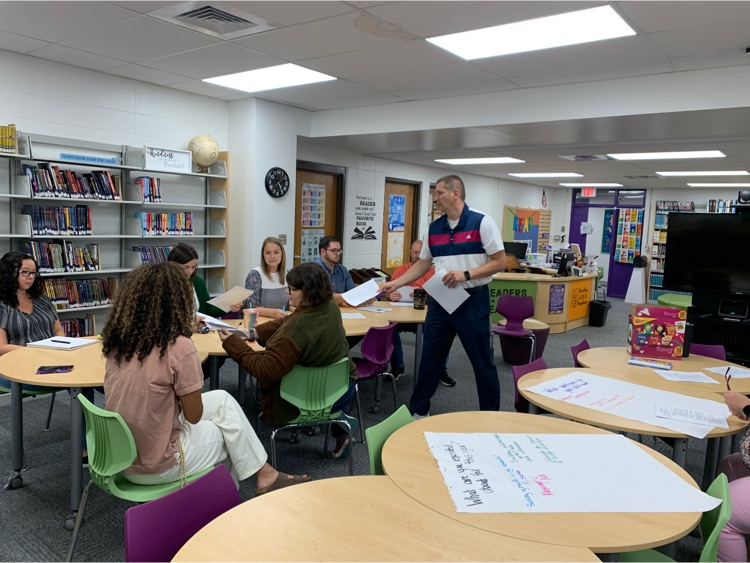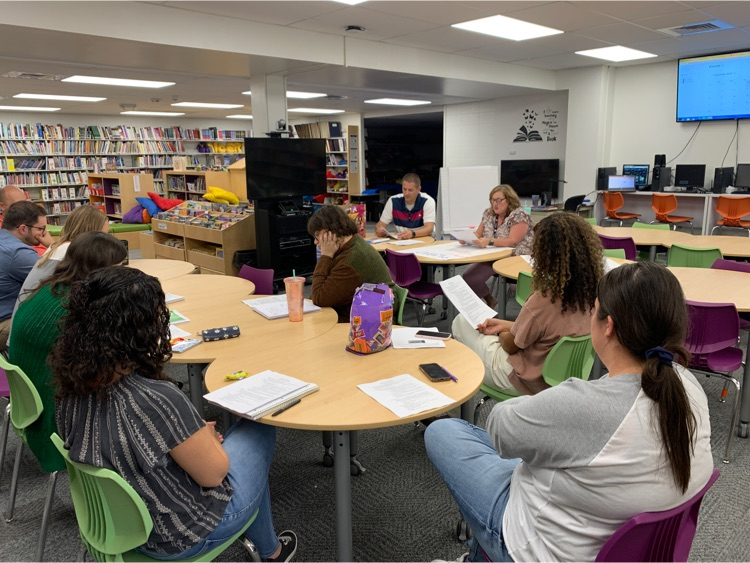 Mrs. Anderson's Computer Science students have been learning different forms of communication using no written or spoken language. They were given random supplies around the classroom to build a device to answer questions. Then, they were given challenges to overcome.  GR8 job!